The Save-a-Battery charger won hands down in our battery charger shoot out test. The charger is a fast, 50-watt 2x Battery charger. After charging is complete the unit automatically switches to maintenance/monitoring mode. By varying current and voltage in a deeper cycle, the charger desulfinates and extends battery life without overcharging. A low voltage alarm monitors the battery and sounds before damage occurs from discharging.
The manufacturer claims that you can leave the unit permanently connected, with no risk of overcharging. A built in voltmeter also lets you test your wiring and charging system. the large LCD screen and bright LED bank make it easy to monitor battery voltage, charging mode, connection status, and overall battery health. The LCD display can be turned off while charging or maintaining for long-term storage. The unit is equipped with modular plug-in cables with three types of battery connectors. The charger comes with a 10' foot long AC power cord; and gold-plated connectors for reliability in damp garages and boathouses. The "No-sparks" polarity protection prevents operation if you screw up the connection to your battery.
The Save A Battery 12-Volt Battery Charger Maintainer and Tester comes with a 6-foot 5-Amp battery terminal lug cable, a 6-foot alligator clip cable, a 6-foot cigarette lighter adapter cable, a 10-foot AC power input cable, and a mounting bracket for permanent wall or vehicle installation.
We give this product a definite thumbs up, it is reasonably priced at about $99
Alden wrenches can slide into places that other tools can't, and the combination of the open end and the ratcheting mechanism is sometimes exactly what's needed to complete a difficult task. The ALDEN WRENCH is an open-ratcheting wrench that only needs 30 angled room to ratchet. It is equivalent to a flip-flapping 15 angled open wrench with a much faster ratchet action. The wrenches have a uniquely shaped head, with a spring-loaded "under-jaw" that acts as a ratchet. Most open-end wrenches need as much as 60 degrees of swing to work, but the Alden wrench only needs 30 degrees.
The design of the wrench also allows them to fit slight variations in fastener sizes when the fastener head is rusted or deformed. The 17-4PH stainless is not as hard as the metal used in conventional wrenches. This allows the tool to "bite" the fastener, providing a good grip. The head of the Alden wrench acts like a "Monkey wrench", that is, as more force is applied, the wrench provides a tighter grip on the fastener.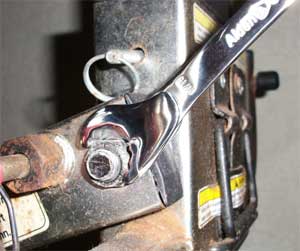 The Alden Wrench is the only open-end ratchet with a strong grip and a small head, for easier access to right work spots. The Alden Wrench is made of 17-4pH Stainless Steel. It is designed for aerospace hydraulics, and is also good for marine use. The Alden Wrench comes with a Limited Lifetime Warranty, prices start at abort $85 per set
We were given a pair of Proskins mechanics gloves by the manufacturer at last years SEMA show. After using them on some real knuckle busting chores around the shop we can report that they are a great product, Unlike some of the other work gloves that we have used the Proskins fit extremely well and allow you to keep a great portion of your tactile sense of touch. This is especially useful as you do not have to remove the gloves to do simple fitting of parts.
The gloves are made of a synthetic leather like material that covers the palm,index and ring finger tips. The glove repels up 25% more water and oil than other gloves on the market. The gloves feature a low profile hook and loop cuff closure and a two way stretch spandex top. It has hidden interior seem stitching and Lycra insert panels,ensuring comfort and mobility. The gloves retail for about $20 a pair.
The Good
Corsa Exhaust Systems
Every once in a while a line of products comes along that really impresses us. Corsa exhaust systems fit that category.
CORSA exhaust systems use a patented Power-Pulse RSC (reactive sound cancellation technology) in its cat-back systems. This technology eliminates interior resonance and puts the "hot" back into the word hotrod. The system delivers all the growl you will ever need under acceleration yet offers a great exhaust note at idle.

The Corsa system eliminates the baffles and chambers found in conventional mufflers. They also claim a 45% increase in air flow compared to factory systems.

The two most popular systems are the the Touring system which has a mild exhaust note and the Indy system which has a more aggressive sound. Both systems run without resonance and are only slightly louder than stock at cruising speed.
Corsa has recently introduced its new Extreme Cat Back system. This new system offers a lot more growl at idle and acceleration but is very tame at cruising speeds. Corsa offers a limited lifetime warranty to original purchaser.
The Good
The Fuel Bib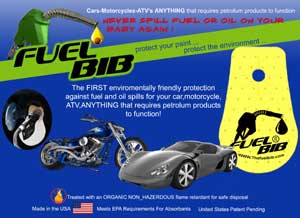 No matter how carefully you are when filling up your dream machines tank there will come a day when you inadvertently spill a few drops of go juice onto your cars meticulously maintained paint job. You panic, and scramble for anything to wipe off the posinous fluid. The end result is that you now have a fuel streaked quarter panel and a smelly shirt and jacket.

Fuel Bib to the rescue!




This innovative product was introduced at this years SEMA show in Vegas. It is a disposable fabric fuel spillage guard that fits around your vehicles fuel inlet tube. It does an effective job in protecting your precious paint from any wayward drops of gasoline.

For more info contact Conceptual Innovations at 1-800-758-9050 or go to www.thefuelbib.com
The Good
Edelbrocks IAS shocks
We heard about Edelbrocks new line of IAS shocks, we contacted them and they sent us over a set to test on a C5.
Edelbrock has introduced their new line of IAS performance shocks. These shocks shocks feature Ricor's patented Inertia Active System (IAS). This exclusive design switches instantly between a firm and a soft circuit for superior handling and a smooth ride.
We installed these without using a lift in about an hour. The results are amazing. The car corners like a Grand Prix racer and rides like a Caddy. Retail price for these babies are $120 each. We give them a thumbs up for performance, easy installation and overall value.
The Good
Morse Ceramic Brake Pads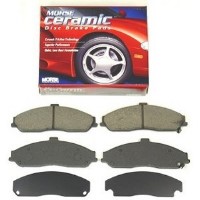 If you have more than 30k miles on your Vette it is probably time for a new set of brake pads. We have installed many types of pads on our Vettes over the years for many types of applications including rally, drag, pro street etc...Most of these racing pads squeal,grab when cold and leave copious amounts of brake dust in their wake.
We have found a real solution for serious street applications, Morse ceramic pads. They are available through AutoZone and are about half the price of factory units. They perform flawlessly, they have amazing stopping power with no noise, fade or brake dust to contend with.
The Good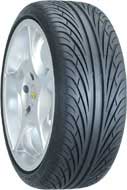 One of the most asked questions we get is "what are the best alternatives to the Goodyear EMT tires that are standard on Corvettes". EMT is the abbreviation for extended mobility tire or "run flat". The Goodyear EMT's do a fairly decent job , the problem is they cost an arm and a leg to replace.
We have tested many non EMT tires and have come up with an alternative that will suit any street application. That alternative is the FALKEN F452 street radial line.
These tires have killer looks, they ride great and unlike some other brands have no noticeable road noise.They also wear extremely well. These tires will also give a very noticeable increase in off the line and cornering traction.
Falken 452's were used for our Project C5 build up. They are in our opinion the best bang for your hard earned buck when it comes to tires. A new Falken can be had for about $150,that's less than half the cost of a Goodyear EMT.
You can order these tires on line from tire wholesalers like Discount Tire Direct. They will ship them to you or if you prefer to one of their approved installers in your area.
For more info go to
www.falkentire.com
The Sometimes Good
Hypertech system reprogrammer
Hypertech's entry into the wide world of electronics is the Max Energy reprogrammer.Just like its predecessors the Hypertech Max Energy, is a system reprogrammer that replaces the stock WOT (wide-open throttle)program with a new performance version.

Hypertech claims a substantial (12hp and 25 ftlb torque) gain with its new unit, they claim a 34 hp increase when used in conjunction with an LS7. It is all a matter of perspective and how much money you are willing to part with for the latest in Corvette toys.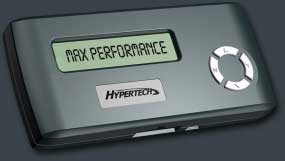 The Hypertech Max Energy, is the latest in a series of self-contained automotive tuning computers. The manufacturer claims that it is easy to use and that you can improve your vehicle's performance, torque, and horsepower without tools or professional training.
When the unit is plugged into your vehicle's underdash diagnostic port, it will upgrade the OEM program on your vehicle's on board computer with the Power Tuning program tailored for your vehicle.
This upgrade is based on information it gathers from reading the Vehicle Identification Number (VIN) and by asking you some yes/no questions.
The device's goal is to optimize the air/fuel ratios and timing to produce maximum performance. The unit will also store the factory stock programming so you can go back to the stock tuning at any time.
A word of caution to anyone out there that owns a vehicle that is under the manufacturers drive train warranty. Using this product will void your cars warranty if the re-flash of your vehicles onboard computer is detected by a factory dealer. Returning your vehicles stock tune will not erase the reflash history from your vehicles computer.
The Good
Northern Tool Aluminum Race Jack
This Single Piston Pump 1 1/2-Ton jack has all the features of a professional aluminum race jack, and at a great price, it retails for under $100. The jack is light weight for easy transport and positioning. The jacking pad is made out of thick rubber and works great on a Corvettes lifting points. It has a beautiful blue and silver anodized finish.
Lift Capacity (tons) 1 1/2
Min. Lift Height (in.) 3 1/4
Max. Lift Height (in.) 14 3/4
Frame Material Aluminum
Strokes to Max. Lift (qty.) 10
Base 21 7/8 x 9 3/4
Most of the time Good but: Let the buyer beware
Optima Batteries
Many of our readers have been complaining about the poor service life and low voltage problems associated with the Optima battery line. To be fair we have also received many letters complimenting the OPTIMA line of batteries.
As a test we went out to our local COSTCO and purchased a brand new OPTIMA 34/78 yellow top battery. It really looked great in the engine bay of one of our C5's. The only problem was that it was cold stone dead.
We called Optima and after giving them the battery serial number we got the usual "we will investigate the problem" song from the customer service rep.
COSTCO gave us a full refund, the counter persons remark was, "on no not another one".
The problem we encountered may be an isolated incident, but just a word to the wise, bring a digital voltmeter with you and test the battery prior to plunking down your $140. Make sure it has a reading of at least 12.4 volts.


The Good
Mothers PowerBall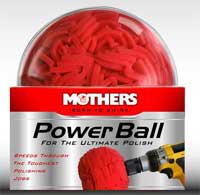 Mothers PowerBall is a foam polishing ball that attaches to your electric drill. This patent-pending detailing tool is made of professional grade closed-cell foam that is soft and highly absorbent. When you press the PowerBall to a surface, the foam maintains its shape so that there is a thick cushion between your vehicle and the drill. The individual foam tabs that compose the ball provide excellent polishing capabilities in combination with any polishing product. We have tested this product on several cars and have nothing but good to say about it. The PowerBall will cut your detailing time in half and will yield a professional shine.