The "Red Roar" ZO6
This Tigress has Claws
After owning 2 Mustang GT's, a Mustang Cobra and a 2004 convertible Commemorative Edition Corvette, Wendy Simons felt the need for more speed. She realized that the only real way to satisfy "the need" was to hitch a ride on the king of the speed hill; her search was on for a red Z06. Wendy's search for the ultimate modern day street machine lasted approximately one year. A major part of her search criteria was to find a Z with an acceptable sticker price.

Prior to the purchase of the Z, Wendy had already chosen the name "Red Roar". She saw a red Z06 in a 2005 copy of Motor Trend that was given that name. As luck would have it the name was available for a specialty plate at her local California DMV. She had the plates but no car, bottom line she had to let the plates go. A year latter she found her dream car, a Victory red 06 ZO6, and believe it or not the vanity name red roar was still available.
As soon as Wendy bought car she had the windows tinted, and installed a Bassani exhaust system. The interior was redone in what else, red. No modifications were made to the already potent power plant.
Wendy uses her Z as a daily driver, the mild California weather enables her to enjoy her ride all year long. Wendy has participated in numerous local car shows. She usually tags along with her friends at "Corvette Specialty of Corona, Ca." they customized and maintain Wendy's Z.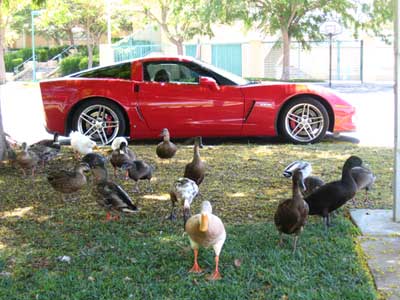 Wendy joins the ranks of the ever growing female presence in Corvette Land. If you are ever in Southern California and find yourself at a stop light next to a Corvette with "Red Roar" plates our advice is do not tempt fate as this tigress will blow your doors off.
The Vette Nuts
return to index page