Classic C3


Larry Vanscoy from the Sunshine state of Florida has been a Corvette lover since 1967. It was in that year that he first saw 1967 427 coupe doing a multi-gear burnout. Larry acquired his first Corvette, an L48 coupe, in 1976. In 1980 he entered a raffle and won a 1980 Corvette. He decided to trade his 76 and the newly won Corvette for a fully loaded 79 black L82. After several years the need for more speed prompted him to trade the 79 for a1971 LS5 454 coupe. Soon afterward Larry started restoration on a 1967 427/435.
He kept the 67 for over 25 years.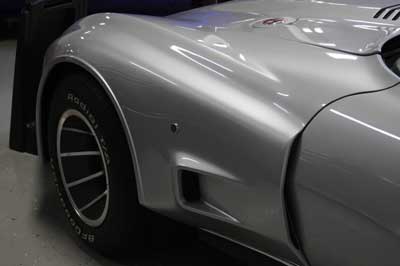 Larry got then became involved with racing a wide body Greenwood and a 1969 427 roadster. After selling both race cars he restored the Greenwood Sebring GT. He also bought a 1967 project Coupe which was a former auto crosser.

The silver blue metallic Sebring GT is one of only six cars constructed in 1977. The car was equipped with front and rear Duntov designed wide body fenders. A GT suspension was added, heavier rate springs, thicker sway bars, adjustable Gabriel shocks. BFG Radial T/A tires were mounted on 10 inch American Racing Vector 10 spoke wheels.



The wheels are adorned with a special "Greenwood GT" center cap. The Greenwood package doubled the price of the base Corvette back in 1977. The serial number on the Greenwoods are located on the door jam and on some cars also on the dash..

Larry's Corvette is fully loaded, equipped with an L-82 350 cubic inch engine, power windows, power steering, power brakes, electro-clear rear defogger, four season air condition, sports mirrors, FE7 gymkhana suspension, M21 4 speed close ratio transmission, tilt-telescopic steering wheel, stereo tape with am/fm stereo radio, anti-theft audio alarm system, white leather interior, smoke gray carpeting.

return to index page