Tim Tinny is a Corvette enthusiast that hails from the great state of Alabama. Tims first encounter with a Corvette like most of the "Boomers" born in the 50's came via the TV show "Route 66". We all remember those two guy's on the show chasing skirts and tooling around in a very cool 62 roadster. The ultimate male American dream.

Tim's first realization of his "Vette Dream" had to wait until 1987 when he bought a 1973 C3 Elkhart Green Stingray. Tim only claimed ownership of his dream for two years as he had to liquidate the Vette due to financial reasons,"reality sucks". He swore then I he would own another one someday. That day came in 2010 when Tim bought a 2006 Black Coupe.




In 2014 he purchased yet another toy, a 2012 3LT Grand Sport equipped with a 6 speed manual and Dual Mode Exhaust system. The GS was nicely appointed with a Supersonic Blue Metallic Exterior and an Ebony Interior color scheme. The car also had the factory Heritage Package that included fender stripes and Sport Seats with Embroidered microfiber headrest inserts.



Tim has worked on cars since he was fourteen years old and still loves to spend time working on his toys. Tim is also a member of Team Corvette Alabama and writes tech articles in the clubs monthly newsletter called "Tim's Tech Tips".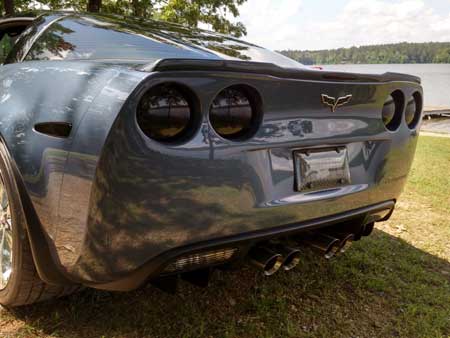 Tim's modifications to his GS include various engine and body mods. His GS has the "go" as well as the "show". Tim installed a new Fast LSXR 102MM intake, a 160deg thermostat, Fast fuel rails, Vararam Snake Charmer CAI, and a Nick Williams Billet 102mm throttle body.

On the exhaust side a set of LG Motorsports Pro Series long tube headers, off road X pipe and cat delete pipes expel the spent fumes. . The mods were pulled together by a professional Dyno tune. The LS3 puts out 515HP at the wheels, enough for some very spirited street cruising. Those are pretty good numbers for a naturally asperated small block.

On the "show" side Tim installed a ZR1 style carbon fiber front chin spoiler, carbon fiber side skirts with mud flaps and a carbon fiber rear spoiler. The headlights and mirrors were removed and the bezels were painted black for a very nice effect.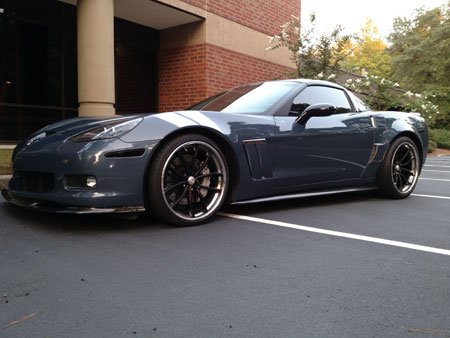 Tims GS with a blacked out theme

Sound deadening material was placed in the doors to improve the stereo sound. Blue LED puddle lights were installed on the bottom of each door along with lights in the door latch finger. The lights are vert trick as they are activated with the unlock feature on the remote. All the interior lights have been upgraded with LED 's. The rear tal lights have been replaced with LED Halo units with smoked out lens.




About The Car


2012 Corvette Grand Sport Coupe
Supersonic Blue Metallic Exterior / Ebony Interior
3LT Equipment Package
Bose Premium 9 Speaker Stereo
Heritage Package with fender stripes, Sport Seats with Embroidery Headrest microfiber inserts
Dual Mode Exhaust
515HP LS3 engine (HP after mods and tune)
6 speed manual transmission



The Vette Nuts


return to index page