"Beauty and the Beast"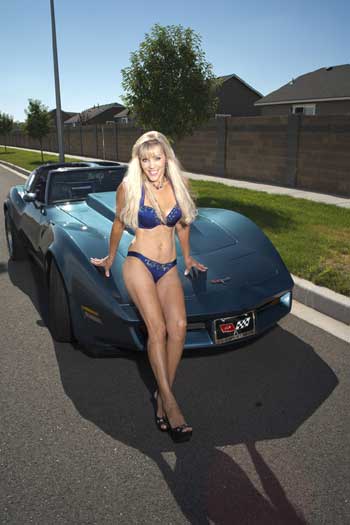 Photography by Evan Baker

Tamara King from Paco Washington started her love affair with America's sports car at the tender young age of three. Her father stared her car addiction by giving Tamara a Power Wheels '67 Corvette. Tamara remembers sitting on the battery powered car and riding around the house until the battery died.
Being blessed with four daughters and no sons, Tamara's father passed on his love of classic cars to each of his girls. Tamara was the only member of the brood that was bitted by the car bug. She would pass the time in on long drives around the country by guessing the makes, models and years of every car on the road.

In high school, Tamara took her love of cars a step further by taking auto mechanics classes. Besides loving cars Tamara also had a passion for fashion. After high school she took up modeling, and also attended cosmetology and beauty colleges in Washington State. After college Tamara took up a career as a professional model. She has modeled for high end fashion houses known for designing clothes for Golden Globe Awards attendees , and Michele Obama.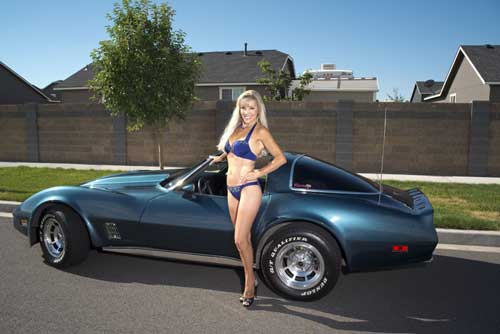 Tamara is currently a freelance model and a Corvette owner and aficionado. She loves attending Corvette shows and rallies. The original L48 small block was replaced with a balanced and blueprinted LT1. The new power plant sports a set of forged pistons and a hydraulic flat tappet 280H grind cam. An aluminum high rise intake sits atop custom rectangular port cylinder heads.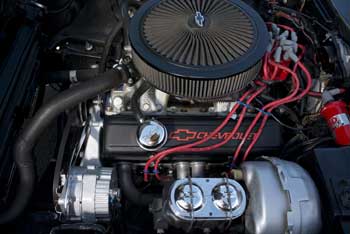 A MSD distributor lights the LT1's fire. Power is transmitted through a Turbo 350 with a 12 inch stall converter. The power exits to the ground with a set of 373 gears that live in a Dana 44 rear. Exterior mods include a very neat cowl hood with a four inch rise. Upgrades to the interior include new leather,carpeting and steering wheel.
Tamara and her Corvette make for a very eye pleasing combo. "What CAR" is the reply most of our readers will probably give when asked about Tamara's C3.
The Vette Nuts