Power and Beauty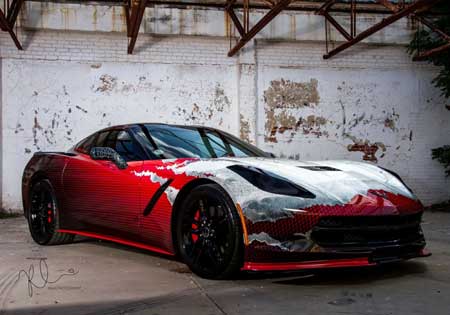 Photography by
Erick Shiver, Jason Archer and Roberta Snyder
Models:
Merissa Hurt and Kaylea Smith
Our cover story this month is centers around a very unique C7. Shawn Brown hails from the great state of Texas. They do everything big in Texas and Shawn's C7 fits that bill. Very shortly after acquiring his 2014 Arctic White Corvette Shawn began his quest for both power and beauty.


Shawn's Stingray started life as a very well equipped representative of the seventh generation Corvette. It came from the factory with all the Z51 performance goodies and a top of the line 3LT equipment package.
Shawn took possession of his new toy in the Spring of 2014. This was Shawn's first Vette and he wasted very little time in bringing it up to his very high performance standards. Shortly after driving his C7 Shawn was bitten hard by the "Mod Bug". Stock was and never has been Shawn's thing so he brought the car to 21st Century Muscle cars in Addison, Texas.
Shawn started off with a 800 horse package that included a host of performances upgrades. The package delivered 800 horses and 700 lbs/ft of torque. We call that a very nice start. The package includes;• Custom A&A supercharger• Front mount inter cooler• Drive system upgrades • Stage 2 Cylinder heads• 21CMC Custom VVT Camshaft• Dual valve springs w. TI retainers• Phaser limiting kit• Harmonic balancer• Lingenfelter 160 thermostat• AFE Cold Air Intake• T-304 Stainless steel 1 7/8" long tube headers• 3" collector & x-pipe• Hi flow catalytic converters
To add some icing to the cake Shawn added a nitrous system and meth injection.
After the power department was straightened out Shawn focused his attention on the the looks of his new super car. Cosmetic mods include blacked out Corvette emblems, carbon fiber engine covers, side skirts and front splitter. An exhaust filler panel and some LED accents were placed in the side vents and around the engine bay.
Shawn further customized the car with a spectacular black widow spider theme that was air brushed on the hood. Shawn told us "who wants to be a normal right". The fabulous art work was done by Ande air custom airbrushing. They also painted the hood-liner and NOS bottles.
Shawn and one of his friends decided to enter the car in the Modball rally that takes place in Los Angeles. In an effort to save the paint from the courses flying rock chips Shawn had the car wrapped by Car wrap city in Dallas.



The created an outrageous spider themed vinyl masterpiece.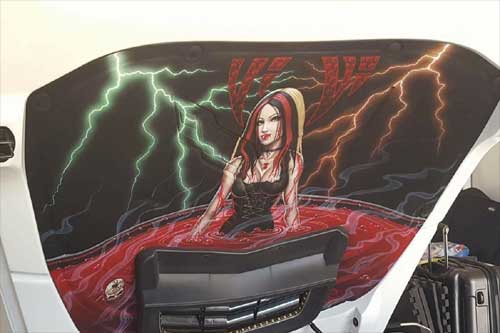 The look was exactly what Shawn was striving for. In Texas they have a saying," go big or go home".




Thanks to Shawn and his friends for sharing their story about an amazing car.
return to index page