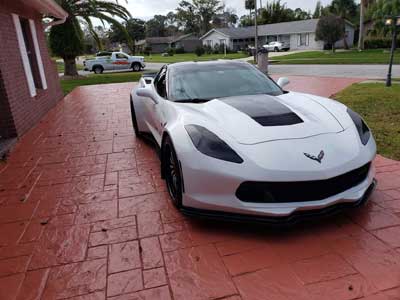 Wide Body C7



Scotty Scott from the Sunshine state of Florida is the owner of a very unique looking 2015 3LT Stingray. Scotty's first Vette was a 2001 C5 that he drove for fourteen years. The C7 made him a believer and a true Corvette fanatic. His best friend who happens to own a body shop talked him into transforming the already great looking car into a one of a kind wide body conversion. The fiberglass panel kit was only one of four made by Forgiato .

Scotty took possession of his new Stingray in early 2015, he drove it for about two weeks before he started the project. The car was taken to the body shop for the wide body installation, fast forward four months of body cut and paste work and Scotty had his wide body C7.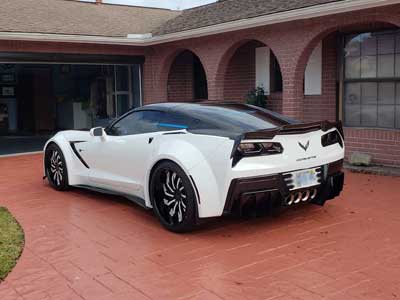 To complement the aggressive stance of the wide body panels Scotty installed a custom set of three piece Amani forged rims. Scotty designed the paint scheme of the rims and had the shop finish the off. The outrageous rims were shod with a set of 325-30-zr21 rear, 275-30-zr20 front Pirelli rubber. The tires were installed on the car during the conversion process to ensure proper clearance. The car was then fitted with copious amounts of carbon fiber body parts. The carbon adornments included spoiler, side skirts, hatch, top the pillars, a Haylo front scoop, and rear diffusers.

The Interior color is called Brownstone, the custom steering wheel is a special order thick D design. Protecting the floor boards are a set of custom diamond mats. The shifter is a 7 speed round white with the Stingray logo.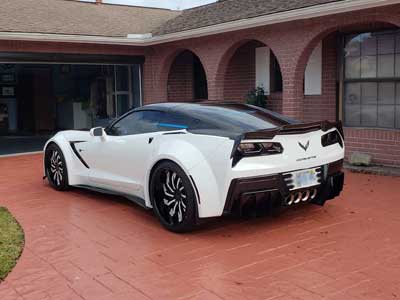 Scotty even built a custom Corvette cave to house his prized possession. He tells us the car is fast enough to do whatever he wants to do. He put his money on the show instead of the go. We think it was a great decision.
return to index page