Steven Bell is a Disc Jockey at a Classic Rock, KCFX, radio station in Kansas City. Steven is also a first time Corvette owner that has been bitten by the Corvette Mod Bug in a very big way. Steven was originally looking for a 2 seater sports car with a lot of power.



Stevens purchased his early version C7, 3LT Z51 in October, 2013. He actually placed an order with Hendrick Chevrolet/Shawnee Mission, KS for a car just like this for an April 2014 delivery. His C7 was a car that was ordered by someone else. The car came in 3 months ahead of schedule and the original owners were not ready for it to be delivered. So they walked away and Steven purchased it instead, timing is everything.



Steven admits that he always wanted a Lamborghini. A white Countach was the poster on his wall as a teenager. But when he looked into the maintenance costs of a European exotic like a V12/scissor-doored Lambo he started looking elsewhere. Steven calls his C7 Vette his new Lamborghini. Other cars he considered included a Porsche Cayman S, Jaguar F-Type and a Maserati Gran Turismo. He the chose Corvette because of it's beauty, styling, power and maintenance affordability.Steven has spent the last two years modifying this car. The interior, exterior and engine bay have been treated to an extensive array of carbon fiber and stainless add-ons.




Engine mods include carbon fiber Plenum Cover, Throttle Body Cover, Air Intake Cover, Heat Extractor, Oil Cap, Fuse Box Cover, Fluid Reservoir Covers, Dip Stick and a custom painted Stingray Engine Hood Liner Torch Red Fuel Rails with Stingray Logos, Alternator Cover, Stingray Engine Fluid Caps,Engine Compartment Trim Rails and a torch red ECM Brake Line Cover. A little extra kick is provided to the 6.3 liter engine via a Corsa Extreme Exhaust w/Double Helix X-pipe & Chrome Tips and an AirRaid CAI system.



The carbon fiber theme was also carried over to the exterior and interior of Steve's C7. These include carbon fiber front splitter, racing side skirts, lower rear fascia with racing diffuser fins, tail light bezels,engine hood vent, license plate frame, front grill center overlay, rear air vent covers and wheel center caps. Interior carbon adorns almost every exposed area of the C7's newly redesigned cabin.
These items include carbon, flat bottom steering wheel, dash, center console, waterfall,door sill frames, door/window switches, door kick plates, sun visor, turn signal end caps, paddle shifters & switches, center console grab handle and stingray door sills. It seems that Steven has kept the after market carbon fiber industry very busy over the past two years.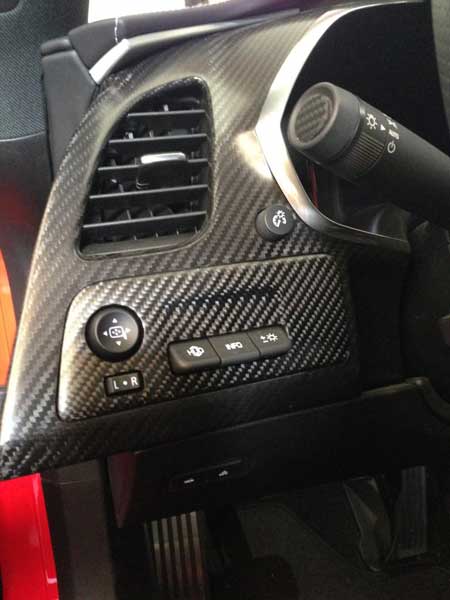 Steven has taken his new hobby very seriously. He is very active in the Corvette Club of Kansas City and is also a Moderator on Corvette Forum. Steven and his wife, Rhonda have taken several road trips with the Corvette. They have been to Bloomington Gold 2013 and 2014 and to the Eureka Springs Corvette Weekend.

Steven also attends many of the local Kansas City Corvette shows. The car has also been taken back to Bowling Green, KY for the 2015 National Corvette Museum Birthday Bash.Steve is also a NCM member as well as an NCRS member.The thing that Steven appreciates the most about his Corvette is the rich tradition of the car. He has enjoyed learning about the different generations. Steve tells us that he "thinks it's so cool that Corvette is the only American car with it's own museum".
The Vette Nuts


return to index page