Pumped up C3



Sam Holden from St. Petersburg Florida has been the proud owner of this 1980 L-82 C3 Corvette for over 24 years. The car was totally stock when Sam took possession of it, It did not stay that way for long. The C3 had 74k miles on it and Sam was the third owner.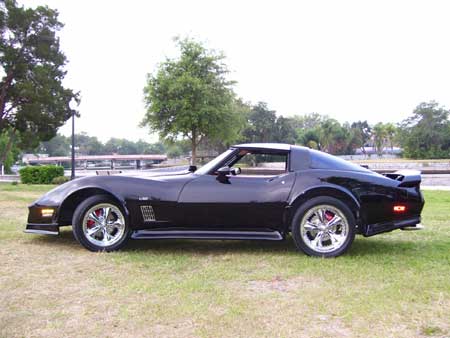 The C3 is a numbers matching L-82 with a black paint and a red interior. Sam used the car as a daily driver for almost six years before enhancing the C3's look. Sam rebuilt the motor, tranny and suspension, He claims that the L82 is now capable of laying down 500 horses to the pavement.



To achieve this the small block was balanced and blueprinted and treated to a 10.5:1 compression ratio. A set of TRW pistons, a Comp cam with all the goodies turn the L82 in good form. Air enters the engine via an Edelbrock Performer intake and a matching 600 cfm carb. The gas is expelled through a set of Flow Tech ceramic coated headers.



A custom 700R four speed tranny slush box transfers power to a set of 3:73 Richmond gears. A custom two tone interior houses a wide array of electronic gizmos and an ultra modern sound system. A set of Chip Foose Nitrous chrome wheels really set off the exterior look of this beast.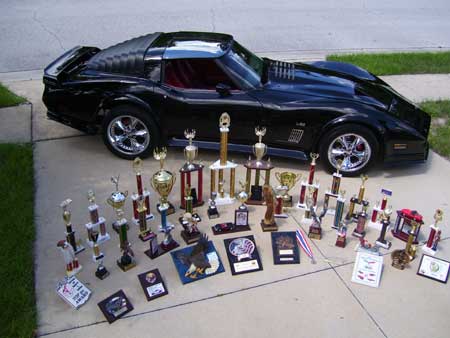 The C3 is adorned with show winning ground effects that include a ducted hi rise hood and a special rear wing.





Sam has been showing the car with amazing success for years now. His C3 has accumulated over sixty three trophies but who's counting. Sams car has been featured in publications and in a USF film production.

return to index page