Show Car Fever
Robin and Ronald McAleer are part of a new trend in today's hot rodding scene. The new scene has shifted gears away from traditional old school Detroit iron to the high tech marvels that can be viewed on any car dealer's showroom floor. Those technological marvels include the traditional pony cars, mid sized sports coupes like the Caddy CTS and of course our beloved Corvette.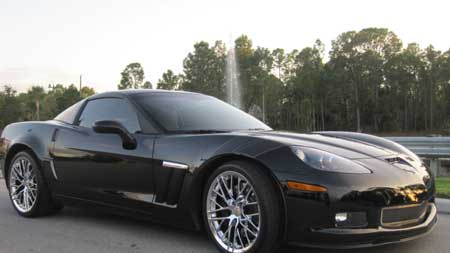 The popularity of a modern day muscle car stems from the fact that today's hot rodder wants a car that has a certain modem of functionality. The modern day muscle car is reliable, comfortable, can function in any climate and gets very respectable fuel mileage.
A case in point is the story of Robin and Ron's modern day hot rod. The Corvette started its journey in 2011 as a run of the mill 436 HP black Grand Sport with a platinum interior. All was well in Corvette land until the McAleer's paid a visit to a GM car show in Ocala Florida. They were bitten, as so many of us have, by the mod bug. Once the mod bug's venom gets into your blood stream all hope of sanity must be abandoned.
The first task that Ron and Robin tackled was to transform the mild mannered touring car into a real life fire breathing dragon. The installation of an AA Vortech supercharger was the ticket. The blower is a limited edition custom unit that boosts output to a very healthy 680 HP.
Other go fast goodies include a custom fabricated front mounted intercooler, custom in tank fuel pump, and a set of new fuel rails by House of Boost. An Areomotive fuel pressure regulator helps push the "gogo" juice through the custom stainless braided fuel lines. The juice is distributed via a set of FAST 80 lb/hr fuel injectors. A custom dyno tune allowed the dragon to breath fire. SLP headers push the spent gasses through a Corsa exhaust system.
Now for the fun part of this project. The McAleer's were not content with just adding mega horsepower to the GS. They wanted a car that would look as fast as it went. A set of chromed ZR1 wheels really perk up the stock GS exterior.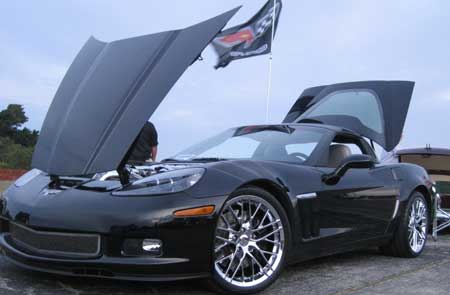 The real magic happens when Ron pops the hood. The car was left off at American Car Craft, located in Hudson Florida. American Car Craft is famous for transforming stock engine bays into contemporary works of art in stainless steel. Cameron Rivera of ACC took personal care in ensuring that the transformation would yield outstanding results.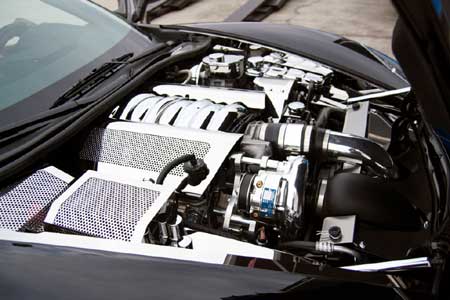 American Car Craft created this engine bay masterpiece utilizing custom fabricated polished stainless steel.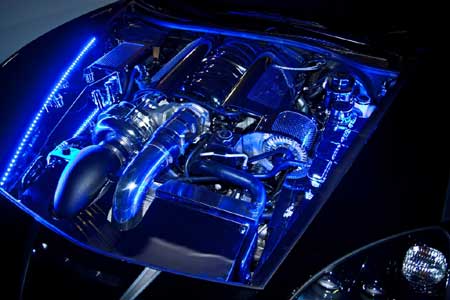 Blue LED accent lighting brings the engine bay to life at night
The McAleer's returned to pick up the Vette two days latter and were blown away by the transformation. We saw the Rons GS at a car cruise in South Florida and immediately recognized Cameron's art work.
Ron and Robin have entered the Corvette in two shows and have taken best of show at both of them. That is no small feat in today's world of fierce competition on the show car circuit.
The Corvette has been turned into pampered garaged trailer queen. The only down side according to Robin is the cars negative impact on their beer budget.
The Vette Nuts
CorvetteWeb Index Page Page