In
February of 2000 John Reese of Cary Il. took delivery of a brand new C5 coupe. John's plan was to use the C5 as a daily driver and do a little drag racing on weekends. Bone stock the C5 ran a 13.60 @ 108 mph. Shortly thereafter his stepson Tony sent him an Ecklers Catalogue. John took one look at the aftermarket bolt on parts and was hooked.
In the 60's John raced a 65' GTO in the Midwest. The "Goat" ran the quarter in the 11's with bolt on parts. Not satisfied John installed a set of worked heads and a cam from Roger Vinci in Florida. The addition of a small Dan Bills tuned Vortec blower running 6 lbs of boost pushed the car into the 10's.
In 2003 John asked Dan Bills the owner of Finish Line Performance in Naperville Il. his thoughts on putting together at dependable street legal 9 second C5 Corvette. The rest is history. That history includes the installation of a 427CI motor using aluminum GM C5R Racing Block with LQ9 Heads with 8.89 to 1 Compression. In collaboration with Dan Bills the owner of Finish Line Performance and Scott Fulcerson the owner of Mid West Engine Tech in Mokena an F1R Pro Charger Blower was installed on the engine in 2003.
In 2003 very few aftermarket parts were available for an LS Drag Racer. Some of the parts that were used included a Lunatti Crank, Rods, and Pistons, Comp Cams custom grind Hydraulic Roller Cam, Lifters, Rockers, and Pushrods, Cloyes Roller Timing Chain, Fast Intake, and a Z06 Throttle body.
The "Barbie Vette" has always been kept NHRA and IHRA legal every step of the way. Mike the owner of Alston Race Cars in Antioch, Il designed and installed a full welded-in cage that was approved by NHRA techs. To maintain street legal funcionality they and did not cut into the dash area.
In 2007 the motor had about 300 runs and was in need of some rejuvenation. The rebuild included new rings and bearings. The decision was made to switch to a set of AFR 225/72 Heads which flowed better.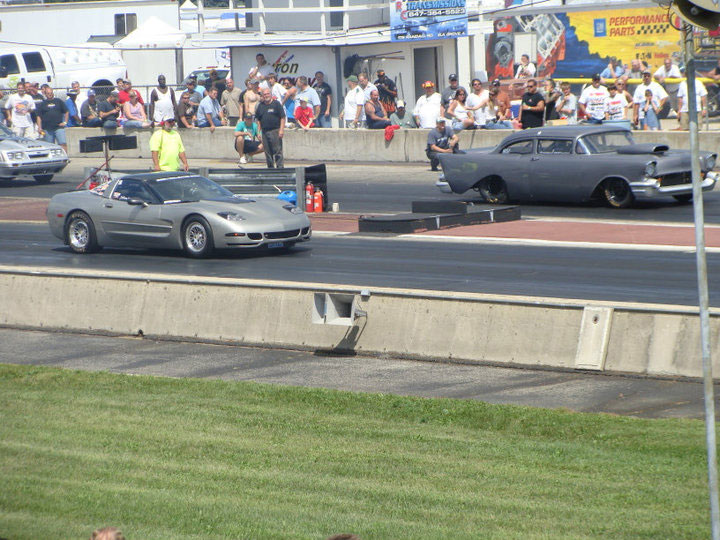 The C5 motor has about 325 runs on it since the rebuild. The engine is given a transfusion of Valvoline VR1 20-50 racing oil and a new oil and filter after every 10 runs. Fuel is delivered through a Dan Bills proprietary fuel system using a Magna Fuel electric pump in conjunction with the stock GM pump.
Dan Bills has never had to "push" the tune-up to get power. The Best time so far with the 3,700 pound "Barbie Vette" is 9.20 @ 155 and the 60' times are between 1.31 and 1.47 launching at about 1100rpm. The C5 launches compliments of a 3,800 rpm stall YANK torque Converter. The technicians at YANK have kept the converter tuned with the rest of the setup.
The guys from the Hot Rod Magazine Forum refer to John's car as the "Barbie Vette". This is because they never felt a Corvette could cut it as a Drag Car. John adopted that name and from then on my car was affectionately known as "The Barbie Vette".
John does as much of the work as he can on his own at the drag strip or at home in his garage. John participated in a Drag Week event that he described as grueling. He drove alone for 1855 miles pulling a trailer over five days into five states.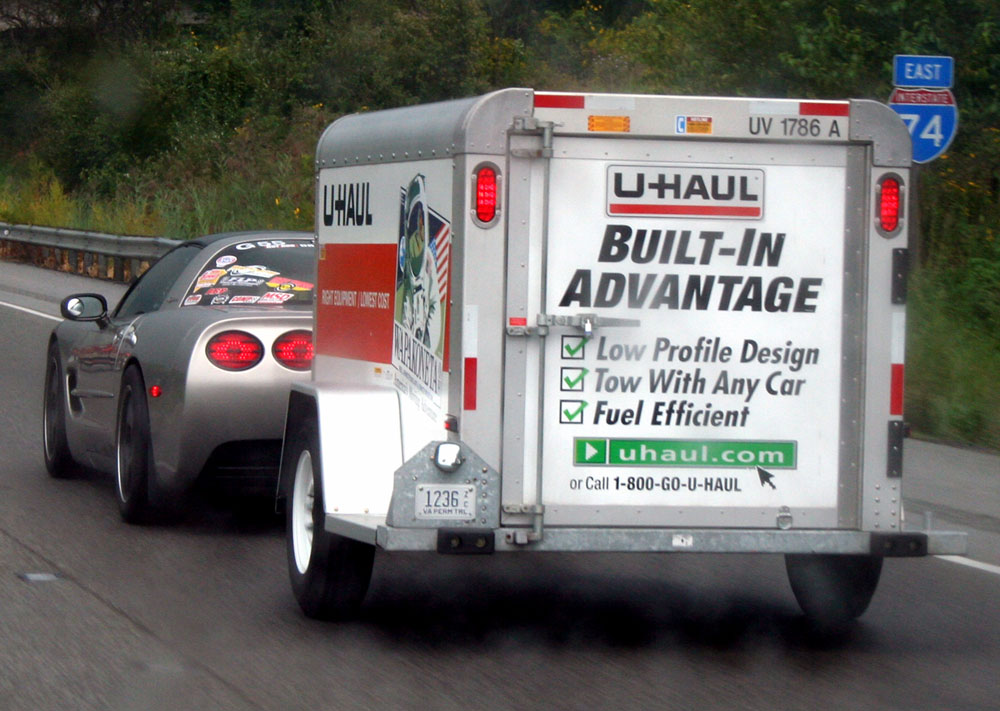 A UHAUL being pulled by a 1,000 horsepower Corvette is something that you don't see everyday

His C5 ran consistent nine second quarter mile times throughout the event. During the event John had to deal with many issues "on the fly" which included burned wiring, bad tie rods and cooling issues.
The C5's heavy work is handled by Dan Bills of Finish Line Performance. The facility at Finish Line is equipped with six lifts, two dynos, and tons of specialty tools. Chuck Johnson the owner of Finish Line Transmission keeps the FLT 4L60E transmission together. The rear end work is handled by RPM Transmission in Indiana. The C5 runs with a 3.42 C6 Z06 rear which has a 8 7/8" ring gear.
John has had his share of broken parts. When you get into the 1,000 horse power range broken parts are just part of the territory. Keeping the drive train intact can be a challenge at a 1,000 hp. Doug and Chris at East Coast Supercharging provided a very good solution for the Corvette driveshaft breakage dilemma. They have developed a unique U-Joint concept that has held the C5 together for more than 3 years with no problems. Rodney the owner of RPM Transmissions in Indiana figured out how to combine the C6 Z06 rear end using a Quaife Posi Unit with Chuck Johnsons 4L60E automatic transmission solving the rear end breakage problems that the car experienced at the 2007 Hot Rod Magazine Event.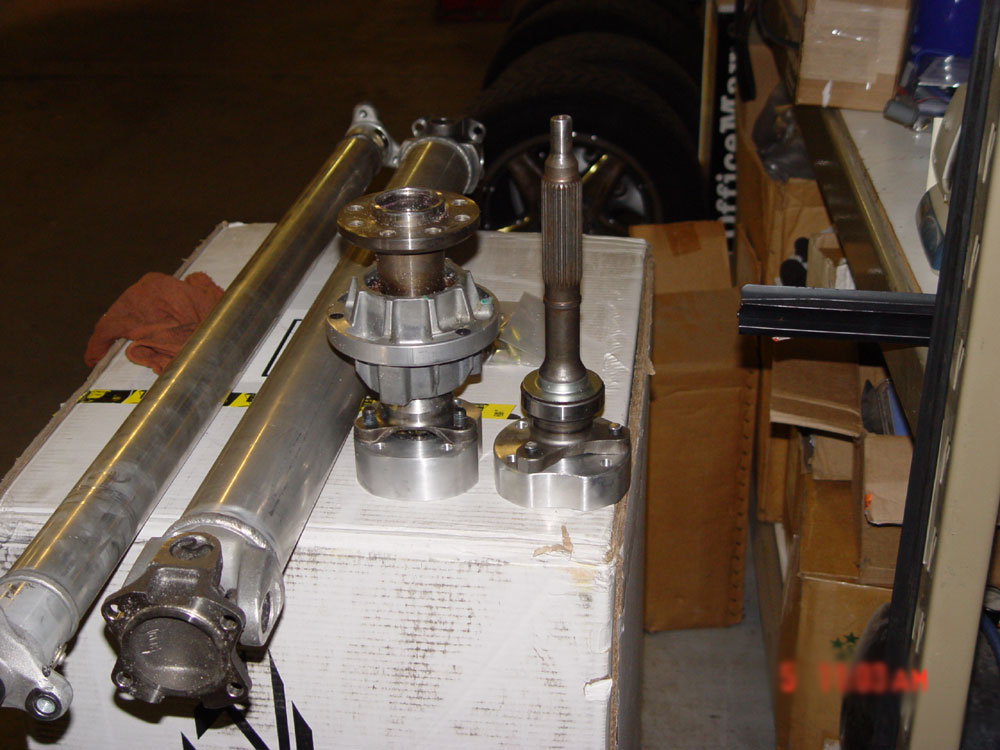 John and his wife Sue participated in many car shows and parades until 2004. Since then things got a little crazy and a lot more interesting. Johns C5 could actually keep up with the professional race cars that had previously kicked his butt at the track. The "Barbie Vette" can be seen at various racing events sponsored by NMCA, NHRA, IHRA, and IMSM.
John describes his involvement in this sport as a combination of fun, challenge and sometimes heartbreak, but that's Drag Racing. John's dream of a street legal nine second street machine is now a reality. He attributes his success to the help he has received from everyone involved in the project and the Corvette Community.
The Vette Nuts