Redline Motosports

New Technology Meets old School Hot Rodding


We here at Corvette Web Magazine are very pleased to announce that hot rodding is alive and well. Modern hot rodding has taken a quantum leap in evolution. Red Line Motor-sports, located in Pompano Beach Florida occupies one of the bright spots on the hot rod evolutionary tree. The companies founder and hot rod guru is Howard Tanner. Howard's love of everything fast started at a very early point in his life. Howard's Grandfather had an engineering background and can be credited for much of Howard's hot rodding interest.


At the tender age of sixteen Howard was bitten by what we refer to as the "mod bug". The first five years after being bitten Howard's interests centered around making his muscle cars go fast. His first projects included several 60's Camaro's, a Nova and a Chevelle.

Howard's passion inspired him to take his hobby to the next level. He received a degree in in Automotive Engineering and was hired by General Motors where he worked in many of the corporations divisions.

Howard embraced the concept of electronic fuel injection and had the foresight to adapt to twenty first century technology. His first high tech project car was a 1992 Corvette that set the stage for his companies innovations in engine management and chassis tuning.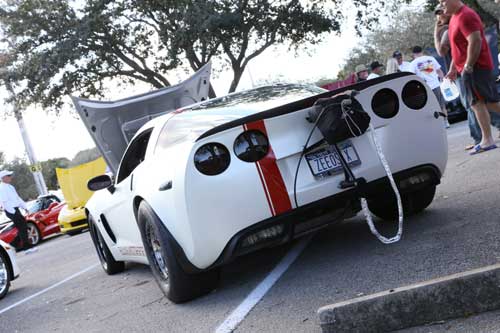 This takes us to the present day. Redlines current project car has taken the form of a 2006 Corvette Z06. At first Howard downplayed the cars potential when speaking to friends. He told his hot rodding buddies that he probably would not go overboard with the car. Howard may have stretched the truth a little about his intentions. The car has become Redlines flagship machine, it purpose is to showcase the companies technological and engineering prowess.


The Redline "Z" is powered by a 432 cubic inch engine that is currently generating 1600 BHP . The high horse power numbers can be attributed to a duel Precision turbo set up.
The stock LS7 was set aside in favor of a GM LSX six bolt iron block. The LSX can deal with the high pressures involved with extreme air intake much better than the thin walled LS7. The cylinder heads are aluminum 6 bolt CNC ported heads by MAST Motorsports. In order to survive the extreme loads imparted by turbos the remainder of the block is equipped with bullet proof forged components.

In order to couple this kind of power to the wheels the factory T56 6 speed manual had to be replaced with something with a little more beef. was replaced with for Howard's reached out to his friend Rodney Massengal, who just happens to be the owner of RPM Transmission for some help. Rodney's solution was to replace the six banger with a a custom built automatic setup. The first auto tranny was a 4L80E which put the car into the low 8 second range. The car had more room to grow and needed something that would survive a harder launch. The latest item in the cars motivation department includes a Reid 2 speed Power Glide transmission and a custom built 9" differential.

Howard told us that he attributes much of his success to his shops ability to adapt to new technology. The Redline Z's ability to successfully launch with the hyper powered rear wheels is helped by an AMS2000 boost controller. The controller works in conjunction with a G force meter that determines the proper time to raise engine boost. The Z leaves the line at 2.4 G's and the computer determines when to add power. Howard tells us that the car is capable of reaching into the seven second quarter mile range once the computer and boost settings are finalized.

On what Howard calls a conservative 15 lbs of boost, Redlines "Hyper Vette" has posted some very respectable mid eight second quarter mile ET's. (Did I say respectable? Those are insane numbers) His short range goal of mid seven second quarter ET's will be realized by pumping the boost up to 24 lbs.

Howard and his team have used this car as a test bed which has enabled them to give their customers better overall product integration. The "Z" car is also a great platform to show off the companies engineering strengths at the big power game.

For more info about Redline Motorsports:

Redline Motorsports
1931 NW 40th Court
Pompano Beach, Florida 33064
(954) 703-5560
www.redline-motorsports.net

The Vette Nuts



The Vette Nuts

return to index page