Southern Comfort
`A "Foxy" Southern Girl With a Need for Speed


Rebecca Smith grew up in a rural farming community Shelby County, Alabama. Her uncle , who was a hot rod builder, took Rebecca and her cousins to Talladega race track on a regular basis. Rebecca realized that being interested in fast cars was a "guy thing" but she was determined not to let that interfere with her passion. In grammar school she saw a 1967 Corvette and has been hooked ever since.


Rebecca's first Vette was a 1978 two tone silver coupe. Life interfered, as it often does, and Rebecca was forced to sell her C3 in the early 80's. After many years Rebecca finally got her toy back. Her new toy was in the form of a red 75 C3 coupe that she named "Lipstick".

The C3 was treated to a new cam and headers , Rebecca says that you can hear Lipstick coming from a mile away. She loves the C3 but needed something a little more civilized. Rebecca ordered the C7 in Oct of 2013 and picked it up at the museum in January of 2014. The C7 now has 22k miles on the odo and Rebecca still smiles every time she get behind the wheel. Rebecca is a graduate of the Spring Mountain Corvette performance driving school. She puts her newly acquired talents to the test by tracking the C7 at the NCM Motor Sport facility.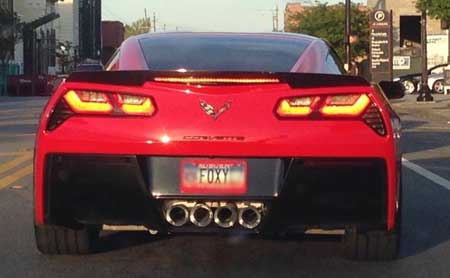 Her new toy is a 2014 Z51 Stingray, 3LT, with an adrenaline red interior, NAV, and magnetic ride. The C7 was tweaked and includes a Vengeance Racing package complete with headers, intake and suspension mods.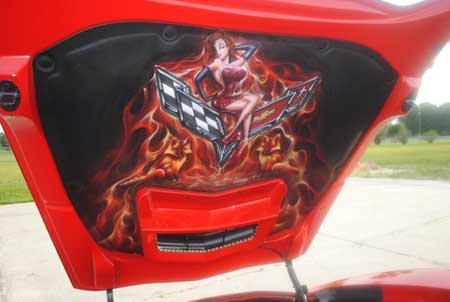 "Foxy" sits on the hood very nicely


Exterior mods include blacked out badges and flags, side skirts and front splitter, black out the top with wrap stripe on the side and a Stingray hood decal. A custom painted hood liner was airbrushed by Steve Ray who in our opinion is the best air brush artist in the country. We did an article a while back on Steve, his work is amazing.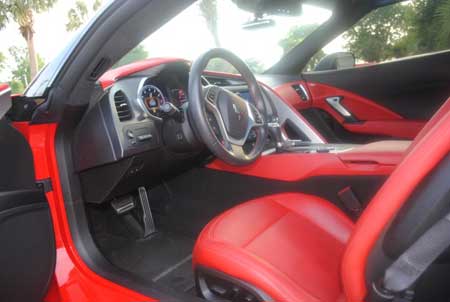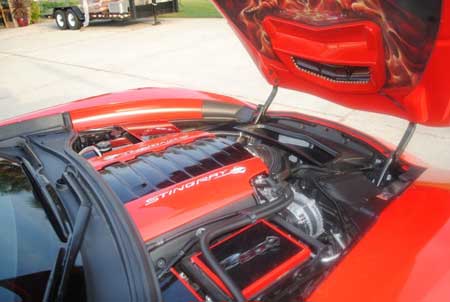 Rebecca has plans to expand her journey into Corvette land. She has a Callaway Z06 on order and will be taking deliver this August. to be picked up at Callaway late August. Rebecca tells us that she is will be taking the new "Z" to Carlisle.
The Vette Nuts

return to index page