1,000 Horse Drop Top
Transforming a Base C6 into a Super Exotic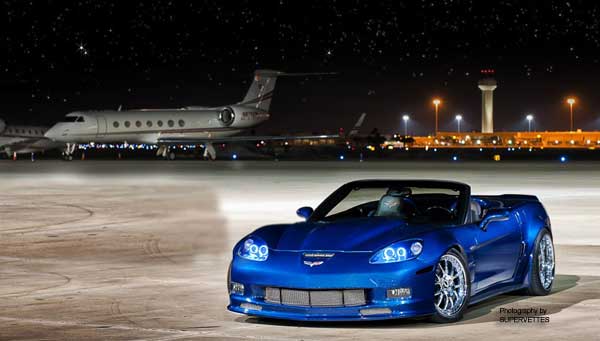 C
ar shows are not only fun to attend but are also an excellent source of information about the latest innovations in the car modding world. We recently covered an all Corvette show in
West Palm Beach Florida,
"Corvettes on Clematis". Clematis Street is not a venereal disease; it's the main drag that runs through downtown
West Palm Beach. The annual event is hosted by the Corvette Club of the Palm Beaches and features some truly outstanding pieces of automotive re-engineering.
While at the show we stumbled onto an example of how a Corvette could be taken to the limits of this non factory re-engineering concept. The car, an 06 Le Mans Blue convertible, belongs to Ray Bergman from South East Florida.

Ray told us that the car has been a continuing work in progress.

The extensive engine and, body and interior work has been progressing for over the course of the past four years
R
ay started his odyssey by increasing the "oomph" factor of

the stock 400 horse LS2.

He contracted the services of Next Level Performance in Altamont Springs, Florida.
Geoff Skorupa at NLP helped to coordinate the extensive mods to the car which included a laundry list that would take several pages to detail.
.
Geoff has been squeezing maximum performance out of Corvettes since 1976. He left the chilly streets o
f Chicago and set up shop in Florida
eight years ago. NLP is one of the nation's top turbo and super charger installers. With over fifteen years of turbo installation experience NLP has come up with a specialized process that ensures maximum power output and maximum engine and drive train survivability.



Jeff told us that he builds turbo powered engines that live very comfortably in the exclusive 1,000hp club.

To create this kind of power the APS turbo's must put out 15 to 18 pounds of boost.

Jeff told us that the key to engine survival at high boost levels is tuning. Through years of experience NLP has developed a customized tuning process that enables street ability for what we like to call a "Hyper Vette".


The main items of interest in this radical conversion included a set of twin APS turbos. NLP is the nation's largest dealer in APS turbo's. A custom methanol injection system with an adjustable boost controller also aids in the prevent engine self destruction under high boost. A special turbo grind Comp camshaft was also installed to compliment the new engine configuration

.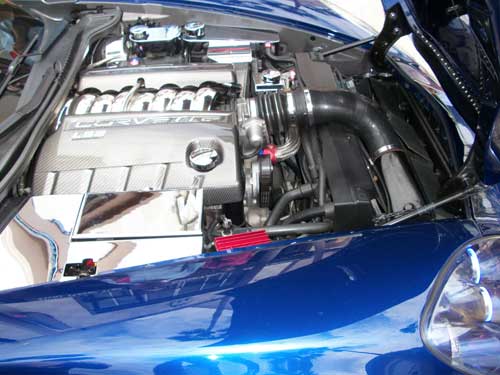 We don't see many successful turbo charged cars.

The complex plumbing and problems in controlling huge amounts of boost and power output inherent in a turbo install is a daunting task.

NLP utilizes a unique turbo mounting strategy.

The turbo's are mounted directly in back of the exhaust manifolds to ensure maximum boost output. The guy's at Next Level Performance handle both super and turbo installs with the greatest of ease. NLP handled all the details and extensive modification that would enable Ray's car to live a long a decent life on the mean streets of South Florida
.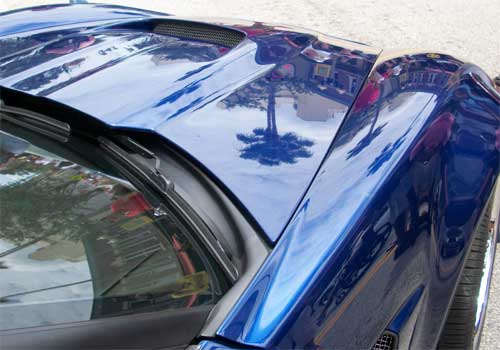 The auto slush box in the car was
upgraded to include all billet steel internals and an 1800 stall converter.

The new tranny can safely handle up to 1200 hp.

Other power motivators include a ZO6 diff and set of
3:15rear end gears. Pirelli P-Zero tires mounted on Forgeline wheels provide the grip and stopping power is provided by Baer rotors.

Ray's car also has the "show" to compliment the "go".
The body conversion includes front and rear quarter panels with a five inch increase in fender flare width over stock. Special side skirts, rear wing and front splitter make this a very aggressive looking package.



A very cool looking vented Motor City
vented sport hood and a set of Lambo Vertical doors finish off the Euro exotic motif. The special LeMans blue paint was applied by top flight automotive.

The interior of Ray's dream car sports customized Lemans Blue leather seat and panel inserts done by interior craftsman Kevin Bucher and the Trim Shop in
West Palm Beach
Florida
Kevin is a friend of ours and we have always been a fan of his interior work on cars, boats and aircraft. We ran into him while we were photographing Ray's car at the show, it's a small world. Other refinements include ample amounts of carbon fiber, and an after market Pioneer sound and Nav system that pushes vibrations through JL Audio components.

Ray's Vette is not something that can be duplicated very easily. The mods thus far have more than equaled the cost of the original car. Like the fine gems in Ray'sSouth Florida
jewelry shop his Corvette is a thing of beauty and rarity. The 06 is probably one of only a handful of convertible Vettes that that has ever been modified to this extent. The project took almost three years to complete but in reality it is a never ending labor of love.

The Vette Nuts


return to index page