"Rare 66"
Pushing the restoration envelope





We first met Jim Campbell at last years SEMA event in Vegas. At the event we were literally stopped in our tracks by a red 72 roadster that had been chosen by Meguiar's to represent the company. Jim's C3 was chosen for the front cover of our January 2013 magazine.

We got a call from Jim recently and he told us that he had a new toy to show off. Our interest was immediate. We knew that if his new project was anywhere near the quality of his 72 a feature article was a given. Jim's new project took a step back in time to a mid year theme. The car in question started out as a daily driver and was transformed into a pristine example of rolling art. The license plate on Jim's C2 says it all "Rare 66".


Jim's C2 is a show car that really pushes the envelope of classic car restoration. Jim told us how the aluminum wheels and side pipe covers were meticulously stripped and polished to to a mirror finish. The restoration was a complete body off job that entailed powder coating the chassis. Jim wanted the finished product to be reliable and easy to drive. The four speed tranny was swapped out in favor of a five speed ans a set of 3:08 cogs now inhabit the rear end differential. This combo makes for some sweet high speed cruising.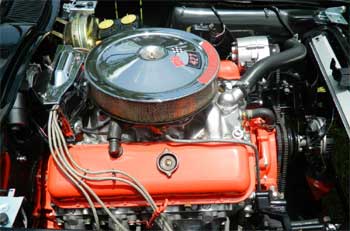 The C2 sports an original 390 horse 427 big block . The engine was in great shape but Jim decided on a conservative rebuild. A few more horses are always welcome. The engine was balanced and bored out. The heads and intake were replaced with lite weight aluminum and the cam was swapped out in favor of a high performance roller unit. A specially tweaked 750CFM Holley carb feeds the big block. A modern high energy ignition system ties everything together in this old timer. Custom suspension and front and rear power disk brakes keep those horses under control.
The interior was ripped out and replaced in matching red leather trim. Electric doors, head lights and windows were installed. A tilt teak steering wheel gives the car a classic feel and look. To enhance highway cruising drive ability sound proofing was installed behind the the door panels, firewall and floor. To further enhance the comfort level in the hot Florida sun an air conditioner by Vintage air was also installed.

To put it mildly Jim has done it again with this truly"Rare 66".

The Vette Nuts