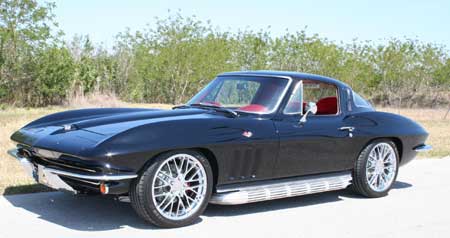 David Raprager first became interested in automobiles when he was about 13 years old. David enjoyed assembling the plastic model cars of the era and reading about them. His first car was a 1959 Triumph TR3A that he drove during his junior and senior years of high school. Sticking with the English sports theme Davis drove a 1964 MGB in college.




Despite Daves experience with the English cars he had a secret desire to start a love affair with an American muscle car. The two cars that were on Davids short list were the Cobra 427 and the C2 Corvette Coupe with side exhaust. Back then these cars were very pricey and out of Davids grasp. Although he could not afford them Davis always kept track of their history.


When David retired in 2010 his secret desire came back to haunt him. With both time and money in adequate supply the quest for American muscle began. In 2010 David purchased a replica 1965 Cobra 427 that was built by Backdraft Racing out of Boynton Beach, FL. He finallyrealized his dream and acquired a 65 C2 coupe in 2012.

Davis and his wife Claudia were not new comers to the Corvette lifestyle. They purchased their first Corvette in 1976, a 1975 C3 Red coupe. The happy couple then purchased a 1964 Convertible in 1980 and owned it for about 10 years. Davis traded the 1975 for a silver 1982 Coupe with glass tops. After being without a Corvette for almost 20 years they purchased a new 2007 Red Convertible, and in 2010 they purchased a black C6 convertible that is now Claudia's daily driver.



Dave purchased the 1965 Coupe in August of 2012 from Corvette Shop and Supplies in Tampa, FL. The Corvette Shop had just completed a body on restoration to the car. The restoration included a new red leather interior and a new coat of black paint. The body was removed from the old chassis and the underside was cleaned and painted as was the engine bay. The car was then sent to Markel Engineering of Pinellas Park, FL. for the resto-mod conversion. (MarkelEngineering.com)




The modifications were completed in January of 2013. The custom built chassis was supplied by Street Shop Inc. of Athens, Al. They also installed the LS3 engine and Tremec 5-speed transmission. The chassis was purchased through the Corvette Shop who also supplied all of the additional parts and accessories required for the conversion that included the radiator, air conditioning and suspension.



Some build details on the car include:

C4 CORVETTE SUSPENSION AND BRAKES
CORVETTE LS3 CRATE ENGINE-436HP
TREMEC TKO-600 5-SPEED TRANSMISSION
DEWITT RADIATOR AND FAN

MARCH PERFORMANCE SERPENTINE
ACCESSORIES ON FRONT OF ENGINE
CLASSIC AUTO AIR AIR CONDITIONING
C6 CORVETTE ZR1 STYLE WHEELS WITH
GOODYEAR EAGLE F1 TIRES



Davis and his wife Claudia joined the Bay Area Corvette Club, sponsored by Dimmitt Chevrolet in Clearwater, Fl, in 1978 and were members for about 4 years. They then rejoined the club in 2007 right after they purchased the 2007. We stumbled on this gem at a recent Corvette show in Sarrasotta FL. To sum it up this car is truly outstanding.





return to index page