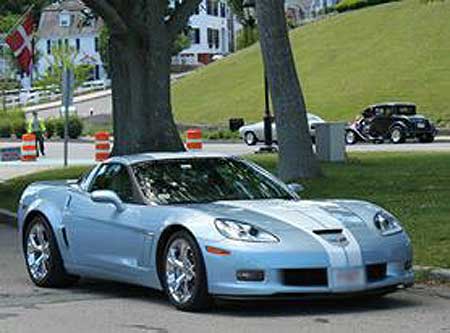 Why Not
Life is Short Go For It


Pete Asker from the great state of Massachusets has a great philosophy, some people overthink things but Pete's motto is "why not". That motto is reflected on the tags of Pete's toy,a 2012 Carlisle Blue Grand Sport. The why not purchase decision was made while Pete and his wife were touring the grounds at the Corvette event at Carlisle. While walking past the Grandstand area he saw some new Carlisle Blue cars being displayed. His eyes were drawn to a very unique GS coupe.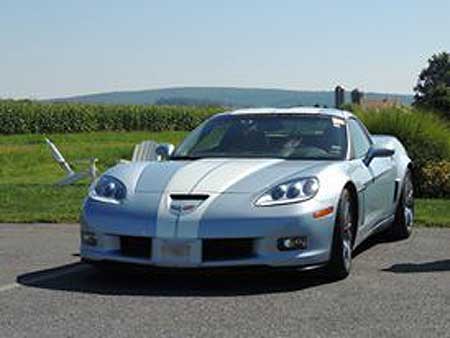 The GS had a full length white stripe and new GM Torq chrome wheels. Pete and his wife talked about it in the coming weeks and decided to trade in her 08 Crystal Red convertible for the new 2012 Carlisle Blue coupe. They got a great deal from MacMulkin Chevy and ordered the car.

Pete was given the chance to actually see his dream car being assembled in Bowling Green. He arrived just before Christmas to see the final stages of his new toy roll off the assembly line. Pete's tour guide at the GM assembly plant was Paul Pearson a well known tech Corvette expert.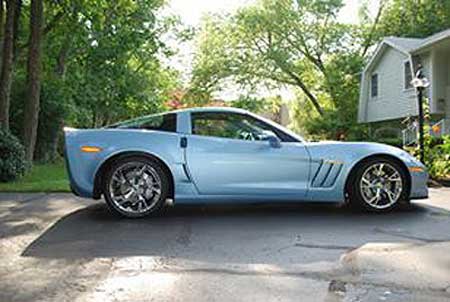 The GS was ready for delivery and Pete picked up the new toy after the New Year. delivered. Chevrolet did not to install the special white stripe at the factory and Pete was given the privilege of installing it himself. It seems the Chevrolet stripe is not just a vinyl stripe, it is a paint on vinyl which makes the application more intricate than a plain vinyl stripe. Chevrolet also decided somewhere along the line not to produce the chrome Torq wheels which was areal disportment as these units were the reason Pete noticed the car in the first place. After some searching Pete was able to get a set of the Torq wheels anyway.

Pete was given a gift at Carlisle, he was presented with a commemorative windshield decal celebrating the 30th Anniversary of Carlisle. The car has operated flawlessly , the limited production body color and interior cashmere interior invariably draws questions from onlookers.


The cars license plate also catches the eye as it expresses Petes outlook on life, it reads "YYNOT". This is especially true when Pete parks his C6 next to his 67 big block.


The Vette Nuts

return to index page