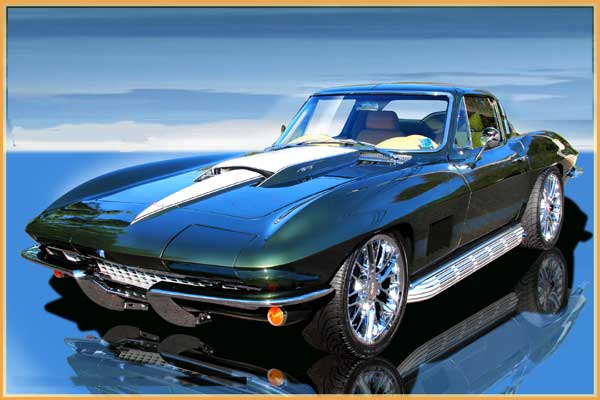 1964 Pro Touring Resto-mod Revisited



Every so often we revisit a past article on a car that really impressed us. This takes us to an especially outstanding build of a pro touring rest mod 64 C2.

Pat Lamberton, from Chalfont, PA, began his Corvette odyssey in 2008. The mod bug bit him shortly after buying a 2008 ZO6. After four years of modifications Pat found himself making changes on the car just for the sake of change. At that point he knew that a new project was needed.

The new project began its journey as a modified1964 coupe. The car was purchased from Hendricks Motors in North Carolina. Hendricks had it listed on E Bay and with only one hour left in the auction Pat acquired his new project.

The 62 was in very good condition at the time of purchase. The C2 was painted in Goodwood Green and was powered by an after market 327 small block. The interior was stock but was redone with newer materials. There had been some limited restoration done to the car in early 2010.

Pat had always wanted a C2, after driving a few originals and speaking with Sean Farrell, owner of "The Vette Shop", located in Warminster, PA it was agreed to transform his new toy into something special. The idea of turning the 64 into a "Resto-Mod" was born. For those of you not familiar with the term, "Resto-Moding" is the art of melding old school iron with modern technology.

Classic cars, especially Corvettes are rolling pieces of art. Unfortunately most of these Detroit born Picasso's are better suited to garages and museums rather than traffic jams. A successful "resto-mod" project can yield the best of both worlds. The unbeatable look of a classic and the power and reliability of modern technology.




After the decision was made to do a compete resto-mod the car was placed in the able hands of the Vette Shop. The first order of business was to swap out the venerable old 327 for one of the new kids on the bock, a fresh LS3 small bock. A heavy duty Tremec TKO five speed was paced aft of the new motor. A custom length drive shaft mated to a Dana rear with a set of 3:42 cogs helps to get the new found power to the ground.


A new one and a half inch round tube chassis was retrofitted with front and rear C4 suspension components. Stopping power is accomplished via specially fabricated power discs and drilled and slotted rotors. A set of 19 x 9.5 inch chrome ZR1 wheels with powder coated black barrels round off the retro mod look.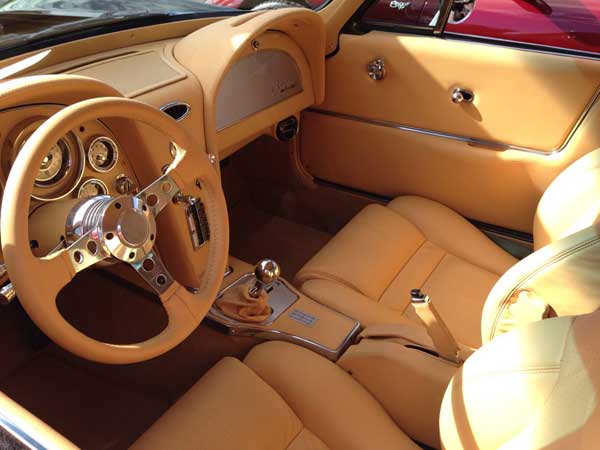 The Interior sports a set of Procar seats covered in Italian leather. Custom leather door panels, dash, headliner and Grant three spoke steering wheel gives the car an updated look. The floor boards are covered with custom made Mercedes Benz carpeting. A set of custom fitted Autometer cruiser series gauges are fitted in the original dash cluster. Tunes are delivered via a retro radio with an Ipod connection. Custom built speakers are hidden and covered in leather. Power windows and an air conditioning unit by Vintage Air help to cool things down.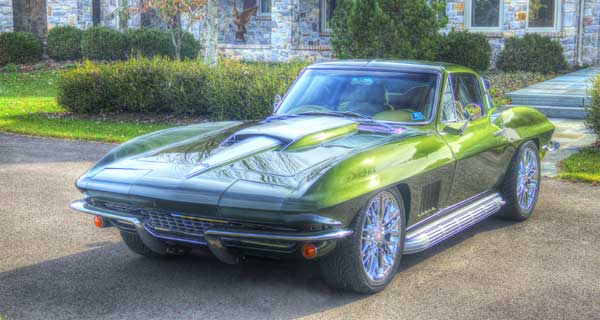 Start to finish the build took nine and a half months. A short period of time considering what was done to the car. Pats Corvette has taken best of show awards at the 2013 Corvettes for Chip Miller Show and the 2013 Warminster PBA Fall Flames auto show.

Pat tells us that he credits his wife Lisa for her support throughout the build. Lisa, is an avid participant in every show that the car is entered in. That kind of support makes things much easier when making a commitment of this magnitude. Pat says "It also allows you to spend your money on the build opposed to lawyers in divorce court."


The Vette Nut's

Return to Index Page