An American Art Form
1967 427 Corvette coupe
Nick Esposito from Boston purchased his 1967 Corvette coupe in 1979. We got a chance to speak with him and get close to his prize possession at this years Mecum auction in Orland Florida. The car was a real show stopper. It had gone through a complete body off restoration. Nick told us that every nut, bolt and screw was replaced as part of the project.



Nick says the first time he saw the car all he saw was a classic piece of art. It was love at first sight, he knew he had to buy it. The car was on its way to his home in Massachusetts that very same day.

Nicks home only had a two car garage that was already occupied. The solution was simple, build another room for his new toy. The new home for the 67 was equipped with glass doors and climate control. The 67 resided in its new digs for thirty eight years. Nick would take it out two to three times a year for a short ride.People always asked him why he didn't drive the car more often as he drove his other cars on a regular basis. Nicks answer was that he didn't want to drive his 67 corvette because it was like a piece of art to him.


The car is in pristine condition and looks exactly the way he bought it over three decades ago. C2 is motivated by an L36 427/390hp power plant and has factory air . Nick has all of the original documents including the bill of sale, protect-o-plate. And the manual and folder it came in.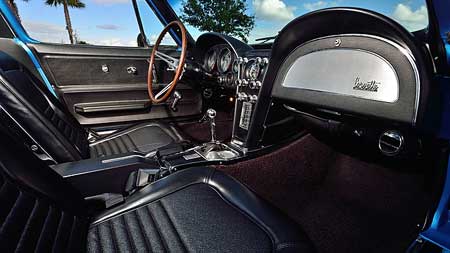 - Body-off restoration - Detailed undercarriage - L36 427/390 HP engine - 4-speed transmission - Side exhaust - Stinger hood - Marina Blue with Black interior - Factory air conditioning - Tinted glass - Original bill of sale - Warranty booklet with Protect-O-Plate

Nick is truly an aficionado of the the American art form known as Corvette. Nick has decided to part ways with his prize posession. The car is now for sale, if you are interested in owning an investment quality classic click on the following link for more info 1967 Big Block

The Vette Nuts

return to index page