Blown ZO6 Hyper Vette


Mark Channell from New Smyrna Beach, Fl. bought his 2007 C6 ZO6 in January of 2013. With only 260 miles on the odo he began his journey into "Hyper Vette " territory. The power of a factory stock "Z" car is intoxicating but Mark a true horsepower addict wanted a lot more. The insatiable thirst for more power compelled Mark to transform a street king into the 638 rear wheel horsepower ground pounder it is today.



The "Z" is the eight Vette Mark has owned. Mark tells us that he always had a true passion to own The American Dream. The passion took hold when at the age of seven he saw his neighbors C3. The body lines and roar of the sharks engine had Mark hooked.



Marks says that his ZO6 is a keeper and will remain in his possession even if he purchases another Corvette. The "Z's " extra kick is produced via the installation of an A&A Supercharger. Other performance boosters include a Comp Cam 242/248 630/630, with a Trunion upgrade, OBX Headers,and X-Pipe, and a Dewitt's Radiator. Auto Meter A Pillar Boost and Fuel Gauges help keep track of the engine spin. A set Nitto NTO5's mounted on Deviant Wheels put down the extra power.



A ZR1 Front Splitter ,rear Spoiler, and side skirts liven up the exterior and just a touch of interior upgrades pull it all together.



Marks "Z" dyno's out at 638 rwhp and 555.25 of torque on approx 7psi of Boost. There are more plans in the near future for a McCloud clutch set up and shaft couplers along with more internal engine work.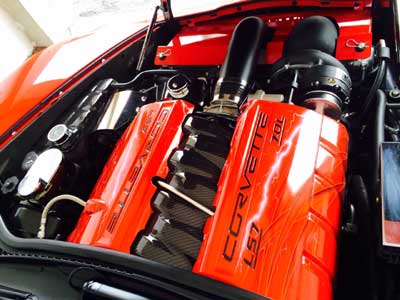 Marks target goal of 900 rwhp will keep him busy. Mark has a very understanding wife and he attributes the cars success to her help and support.

"The only view you will get of Marks car on the street"


We applaud both Mark and his wife for their efforts and hope that the money pit that a hyper build can sometimes turn into does not blur their enthusiasm.


The Vette Nut's

Return to Index Page