Mid Year Dream Car

Mark Massare from Rochester NY found his dream car while browsing the cars for sale section on Craigs list (who says the internet is evil). What initially attracted Mark was the Mid Years unique paint job,big bock power and a mean looking "stinger hood".

Mark asked the previous owner why he was selling the 66 C2. The owner responded that he was tired of not being able to drive it like a normal car and constantly guarding the car from the greasy fingers of the admirers. One of the pitfalls of owning a classic is that people who never owned a classic car have an uncontrollable urge to touch one, very disrespectful.




Mark was so awe struck by the C2's beauty that he didn't even notice that the front end was modified to a 1967 style. Never the less Mark has never had any regrets on purchasing the car.

Mid year's have been Marks favorite Corvette style since he first laid eyes on one of them as a kid. Money problems and an untrustworthily frame forced Mark to sell a C2 during his early years. When the opportunity to acquire the 66 came along Mark did not hesitate.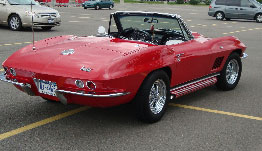 The car was equipped with a factory stinger hood and was treated to a fresh coat of paint by the previous owner. Except for the body and paint Mark has replaced just about every other factory part on the car.

When purchased there was a non matching 350 small block sitting in the engine bay. Mark swapped out the 350 and replaced it with a professionally built 383 stroker motor by Carl Mcquillen. Mark says that not having a numbers matching car gave him the flexibility to change things without any regrets.




Internals include a 4 bolt main, Calas crank, roller rockers, Jessel belt drive, Ati balancer, ARP bolt hamburg oil pan, Edelbrock carb. new radiator, stainless dual master cylinder, special fit stainless steel brake booster by Fabquest, stainless brakes and lines, and a set of specially fabricated nickel coated headers.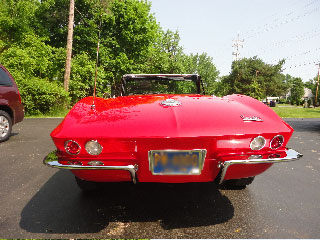 A Muncie M21 transmission handles the power transfer. Mark says that the car's new drive train provides more than enough power. Mark tells us that the extra horses can be very hard to control at times. Mark installed heavy duty racing clutch to help in the power transfer department. The heavy clutch pedal also keeps his wife away from any urge to drive the car.


The car was completely rewired thanks to Ron Francis at Wiring systems. The old school Cragar SS chrome spoke wheels really do justice to the over all look of the car. Just about everything under the car was replaced, including the trailing arms, power steering booster, control arm bushings, tie rod ends, to name a few. Mark sums it up by saying that he is very grateful to be able to own his dream car and a piece of American history.

The Vette Nut's

Return to Index Page