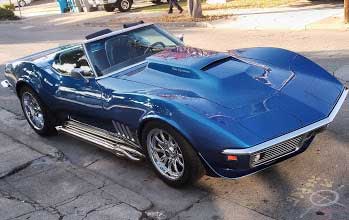 Over The Top C3




Lyle Thomsen from San Francisco CA is the proud owner of a multi-restoration 68 C3 roadster. Lyle has owned the C3 for 32 years, and this is the 3rd time it's been rejuvenated since he's owned it.

Lyle originally found the car halfway buried in mud behind a tow yard, to say the least, it was in very bad shape. Growing under the rear deck lid was a flat of mushrooms. The rear end was held together with multiple layers of un sanded bondo. The interior and entire engine bay was painted silver, to put it mildly the restoration project was a challenge.


A new 600 horse 355ci, small block was fitted with all forged rotating parts. The intake is an EFI Hilborn Injection unit. the trans is matched to the engines output. A Tritech 700R4 tranny matches the engines high output demands. Upgraded components include , a B&M shift kit, and manual valve body.

Suspension parts include Steroids Rack and Pinion, and a set of home made rear offset trailing arms. Stopping power is compliments of Wilwood 14" rotors up front with 6 piston ZO6 front calipers, out back are Wild wood 13" rotors with 6 piston calipers. The ZR rated directional tires are nestled in a set of custom Riddler wheels.


The interior includes Connolly Leather and Checkered Black Velve seats. The rear compartment doors are made of one solid plank of light oak, cut in three grain matching pieces and stained Ebony with satin clear.

The custom sound system includes a Clarion unit with an LCD screen DVD, MP3, CD, TV, SIRIUS player, and touch screen monitor.
Other niceties include LED gauges, custom floor mats and a custom Stay fast canvas top .

return to index page