WICKED RED
Luke Oas hails from the Lone Star State. Texas is a big state and is known for doing things in a big way. Luke's ZO6 was no exception to that rule. The story behind Luke's project started in 1997 when his father bought a new C5. Luke instantly fell in love with it. He always wanted to ride in it and of course drive it, but that wasn't happening since he was was eight years old. Luke didn't fully understand his passion for Corvettes until he sat in a black 03 C5 Z06. After the visceral experience of the look and the sound of the car Luke knew that a Corvette was in his future.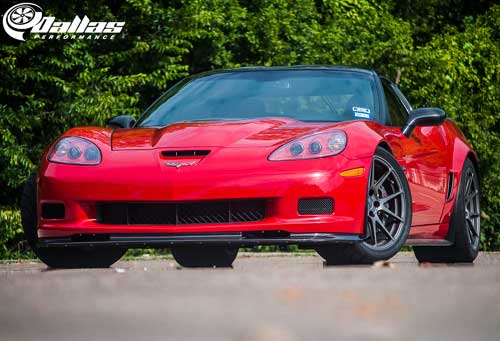 In 2011 after graduating from college Luke found a red 08 C6 Z06. The car was a bone stock one owner car and had about 9,000 miles on it. Luke could not leave well enough alone so he added a set of long tube headers but the mod bug demanded more. Luke decided to replace the mighty LS7 sell it and start over with a brand new motor. The project evolved in phases. Luke's goal was to build a bad-ass track car that could rip around a road course and beat the best posted times for a "Z" around the Nuremberg ring. Luke attended several driving schools and soon found out that circuit driving on a pro level was not realistic.


After that particular vision faded Luke decided to build an ultra quick street car. Lukes one condition was that the car remain naturally aspirated. The goal was to make huge amounts of horsepower horse the old school way. Luke also wanted to keep the addicting sound of a thumping idle big cube motor.
Luke and his cohorts at Dallas Performance started the very unique project. As in most Hyper builds the original budget planning goes by the wayside very early in the project. Luke and the Dallas Performance team replaced virtually every stock part of the drive train.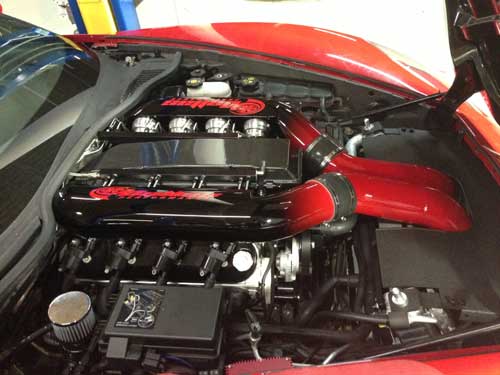 The block was replaced with an RHS based 427 LS. Luke then added an all forged rotating assembly, and specially prepped All-Pro heads. To accommodate Luke's road racing plans an ARE dry sump and a full PFDAT suspension setup was installed. A Tremec ZR1 trans was also installed as the shorter gears of the unit would help on the track. Larger oil and trans coolers were added as well as a large capacity Dewitts radiator.


Stopping power for the beast was a priority, a trophy kit from Stop-Tech which included a set of 15 inch rotor's was added. Luke says it's almost as fun mashing the brakes as it is mashing the throttle. A set of Forgeline GA1R wheels house the rubber. In an effort to bring the Z into the sub 3000 pound category a host of carbon fiber parts were added. A special rear diffuser and twin four inch pipes finish off the rear end.

The interior of the Z has a true race theme. Cipher race seats and Corbeau harnesses keep the driver planted during hard turns. A roll cage was added to up the safety factor. The stock radio and speakers were removed and replaced with "race" look cockpit switches for ignition and fuel. A small diameter Sparco steering wheel increases road feel. Luke got criticized for ripping the radio out and not being able to jam out while cruising. Luke says that the symphony those eight cylinders is better than anything the radio can blast out.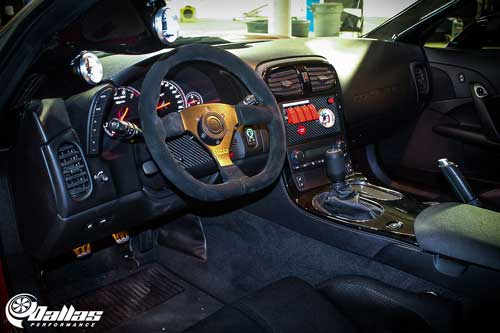 The hood was replaced with a very neat ZR1 unit with a peek a boo Lexan window. What spectators get to look at through the window is an exotic Harrop intake unit. The Harrop "Hurricane" intake features old school individual runners and a cool carbon fiber finish. The intake looks like it was pirated from a Ferrari. In an effort to send the power curve through the roof a nitrous system (or "Natrous" as the locals call it) was added as icing on the cake.



The finished product is loud and aggressive. The tag reflects how the locals refer to laughing gas. Luke's toy is not an easy drive as Luke puts it, "this ZO6 will plant your ass in the seat when the pedal hits the metal". Thats just the way we like.



The Vette Nut's

Return to Index Page