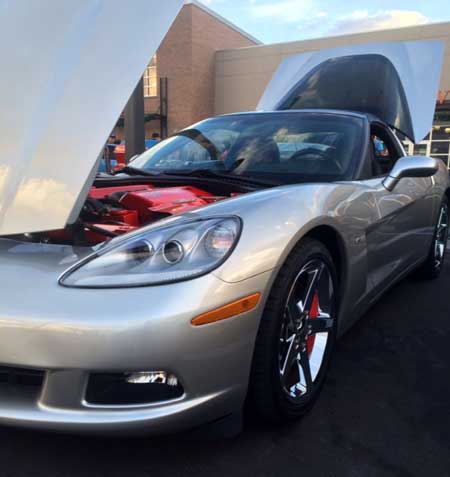 Better Late Than Never

Our Vette Ride of the Month


Larry Drozd from Naples Florida is very representative of most of the "hot rod" generation. As a young guy Larry was waist deep into hot rodding. His previous love was a 63 C2 Corvette roadster. The car according to Larry were very capable on both the street and at shows.




In the mid 60's reality set in and Larry was called by the military to defend our country. After his tour in the Army Larry's efforts focused on getting married and raising a family.
The hot rod bug had to take a back seat for a while. The thing about the hot rod bug is that is always comes back to bite you when thing loosen up a bit. Larry finally retired to the good life in Florida and bought himself a well deserved present, an 08 Z51 coupe in machine silver.



Larry's first retirement port of call was in Pensacola Florida. He served as the VP in the Miracle Mile Corvette club in that city. A few years back Larry and his wife. In search of the endless summer, moved further South to Naples Florida where he is one of the "chief cooks and bottle washers" in the Marco Island Corvette club.



Larry's 08 coupe is a beautiful example of what we call the "subdued modified" look. No heavy exterior mods distracts from the cars natural beauty here. A Z06 rear spoiler, chrome wheels with drilled and slotted rotors and Z51 badging spell street sleeper. The look has earned Larry a garage full of trophy's from many of the shows he attends.



The engine bay is another story, custom pained engine parts include fuel rails, battery, water tank, brake and all other factory parts. Larry installed an SLP Black Wing induction system, and a Flow Master exhaust system to improve breathing. To really wake up the LS3 Larry had the car dyno tuned and has pushed the cars performance well past the factory's recommendations for sanity.

Larry's future plans for the car include more engine bling and some carbon fiber exterior mods. Larry told us that he really wants to install a supercharger, his wifes response to his wish is "and people in hell want ice water". Our advise is to keep on pushing Larry.

Congratulations to Larry and his wife Joann on their well deserved retirement and the great job on a beautiful car.





The Vette Nuts

return to index page