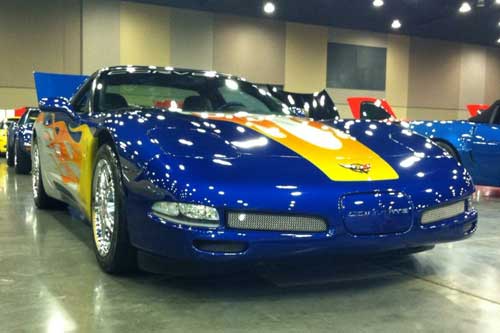 Larry Barrios from Baton Rouge La, is the proud owner of a show winning 2002 C5 coupe. Larry purchased the car in 2009 and was immediately bitten by the "mod bug". The cars unique paint scheme was designed and applied to compliment the interior and engine compartments. The prep and special paint work took over five months to complete. Both the engine and interior have been treated to hydrographic overlays in a matching blue marble finish.



Along with the "show" Larry added some "go" to the equation. The heads and the throttle body were ported and polished. A custom exhaust system was fitted and the tranny was beefed up to handle the extra power. After the computer was modified with a tune the car puts out a very respectable 435 horses at the crank.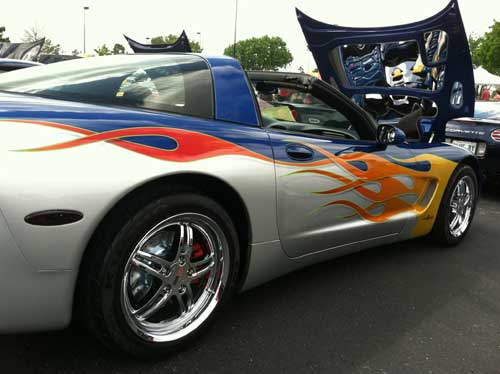 Custom wheels give Larry's car more show and stopping power is accomplished with a set of drilled and slotted zinc coated brake rotors with ceramic pads and custom painted calipers.

Larry's rolling piece of modern art has won sixty five awards at various venues throughout the state of Louisiana. The car won the ISCA best paint street division in the New Orleans World of Wheels. Larry tries to show his pride and joy at every opportunity. He like most of us involved in the Corvette Hobby has discovered the passion people have for their cars.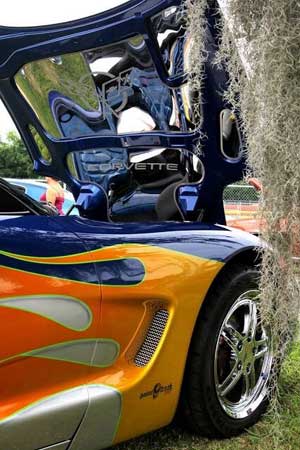 Larry is a current board member in the Baton Rouge Corvette Club and a member of the Greater New Orleans Corvette Club. Larry's daily driver is a 1997 C5 that is pushing 145k miles and running strong. That's a real testament to the engineering success of the fifth generation Vette. Most of the 200k plus C5's that were produced by GM in its seven year run are still on the road.
The Vette Nuts

return to index page