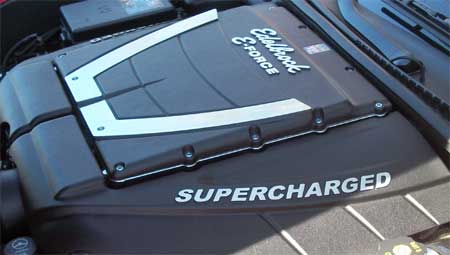 Blown Away

Edelbrocks E-Force Supercharger pushes the C6 horsepower envelope

We recently came across a 1969 issue of popular science magazine. In that issue they released the results of the Union/Pure Oil performance trials. They tested every 1969 American made car for 0 to 60 acceleration, gas mileage and braking distances. The three fastest cars according to the testing data were the Dodger Charger RT, Plymouth GTX and the Mercury Cyclone Cobra. These muscle machines all sported gas guzzling fire breathing big blocks. The sound they emitted was pure music to every horsepower crazed teenager that heard them.

Old technology or should I say no technology has never diminished our fascination with these now extinct beasts. Those were the good old days when you could smoke in public and carry an open can of beer in your car without much consequence. Men were men and Hess 101 octane gas cost twenty eight cents a gallon.

The golden age of the muscle car came screeching to a halt in 1971. Tight emission standards and high insurance premiums made muscle cars politically incorrect. That political incorrectness really made itself known in 1973 when the Arabs turned off the oil spigots.

The muscle cars listed above were according to the experts the three fastest machines offered to the public in 1969. The top dog was the Charger RT, it came in with a blistering 0 to 60 mph time of 5.565 seconds. The other two contenders were slightly slower. Are you still longing for the good old days? By today's standards these dinosaurs could not get out of their own way. A bone stock 2011 six cylinder Camaro or Mustang could if given a chance easily dust off any one of these relics.

That being said I know I have blasphemed the Gods of speed and I will no doubt get many letters of reprisal on the subject. Before all of you old gear heads go into a tizzy lets put things into proper perspective, fast forward forty years to the new age of the super car.

A bone stock base model C6 Corvette is equipped with a light weight aluminum small block that easily produces over 430 horses. It handles like a Grand Prix racer, gets almost 30 mpg on the open road and will blast down the quarter in less than thirteen seconds. A new Vette will clock a 0 to 60 mph time of about four seconds flat. Back in the day I was an avid MOPAR fan. In 1970 drag racing was a religion and there was no substitute for cubic inches. Let's face it a new Vette would have blown the doors off my beloved Plymouth Road Runner.


All this rambling brings us to what many have called one of the greatest performance bargains available today. That bargain is the C6 Grand Sport. With most of the underpinnings and same body styling of a ZO6 the GS is a very cost effective package.

Stock horsepower levels are completely adequate for most Corvette owners. Adequate is not what hot rodding is all about. A gear head is never satisfied and constantly craves more horsepower.
At a recent car show in South West Florida we had the opportunity to meet some people that exemplify the gear head philosophy. Nancy and Ken Lachance traded in their 07 C6 coupe for a beautiful victory red 2010 Grand Sport with a 3LT package and an automatic. They purchased the GS knowing that 430 horses were not enough.
The GS according to the Lachanse's has outstanding ride and handling characteristics. They enjoyed the car in its stock form for only 8 months before deciding to improve on what GM gave them. They realized that the easiest and most cost effective way to improve horsepower was to add a blower. Ken wanted a roots style supercharger but did not want to modify the hood to accommodate it. The Roots blower that is part of the Callaway and Lingenfelter C6 package require a high rise hood or a corny hood bulge.
After some serious soul searching Edelbrock came to the rescue with its new E-force supercharger system. Ken liked the idea of a system that made power with conservative boost levels. The E Force system makes power with only 7.5 lbs. of boost with a front belt drive system. He especially likes fact that the Edelbrock system fits under the stock hood.
Ken chose to install the 599 hp version which required a change to the Z06 fuel pump. This was the only real hitch in the installation. The Edelbrock package includes new tuning hardware, just plug the supplied device into the OBD2 port and you are good to go. After some very careful research Ken contracted the installation to Monster Motorsports, located in Davie Florida. Ken chose Monster because of the shops reputation for quality and attention to detail. Quality and reliability were the ultimate goals in this project.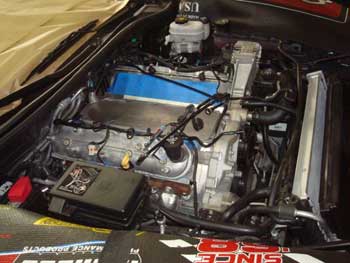 Quality and reliability were the ultimate goals in this project. The complete installation took two days to complete. The job according to Ken was "perfect".
A blower install is well beyond the skill sets of most Corvette owners. A Corvette owner who is contemplating the installation of a supercharger is more concerned about the end product rather than the installation details. The most frequent questions we get about blower installations revolve around drivability and reliability issues.
We were originally going to show a step pictorial installation of a typical E-Force installation. After discussing it we realized that other than making for some interesting side notes a step by step installation pictorial would be of little value to most of our readers. If you are really interested in the technical details you can download a very detailed installation manual on Edelbrock's website. We decided to focus our attention on the end product of an E-Force blower installation. According to Ken the performance of his C6 is night and day from stock, but unchanged in civility under normal throttle conditions. We have interviewed many new E-Force owners and have yet to get a negative review.


As for the reliability issue Edelbrock offers a fairly comprehensive warranty that covers most if the major engine and drive train components. A third party warranty is a necessity as the OEM warranty goes out the window with this type of installation. Edelbrock offers three levels of warranty options. The warranty levels are sold as silver, gold and platinum policies that cover the vehicle for 50,000 miles from the time of installation. The platinum policy costs an additional $1,150 has a $0 deductible and provides a $19,000 liability limit. In order to obtain a warranty the blower must be installed by a GM dealer or an Edelbrock certified shop.

Before you decide to embark on the supercharger journey read the terms of the warranty very carefully as there are some very strict compliance stipulations that are attached to it in the fine print. Warranty killers revolve around things like lack of dealer maintenance, alterations to the blower pulleys and abuse of the vehicle (racing). The warranty can also be downloaded from the Edelbrock website.

Ken told us that the blown Vette really gives the traction and active handling controls a workout. He does not recommend driving the car with the controls turned off.

The supercharged GS has run 1/8 mi with E.T.'s in the 7.60's at 95 mph. This would probably translate into ¼ mile times in the 11's and speeds approaching 130 mph. Not to shabby for a daily driver. The system incorporates a blower bypass that yields fuel economy levels that are identical to the stock motor.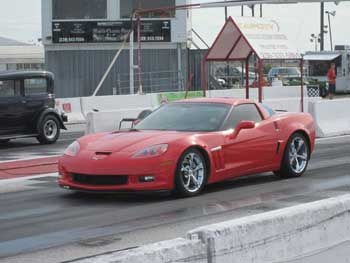 Ken tells us that when people first see the engine bay they always ask if the car came from the factory that way. Ken responds with a polite, "No it just looks like it does".
Ken says that many things in life don't live up to ones but this package definitely exceeds. He can't imagine owning a better street car. This C6 has invaded ZR-1 territory for a about half the entry fee. The package costs about $10k installed.
Ken tells us there is a down side, like all good things in life. If you are going to drive it like it is meant to you will need to save your allowance for rear tires, his wife can't figure out what's wearing them out.