Kevin Lowe's 2006 velocity yellow C6 is an amazing example of what can happen if you get bitten by the Corvette modification bug. In this case the mod bug has gone wild. What is really amazing is that Kevin and his son in law did all the work on the 06 themselves. The result is an outstanding street and show machine that these two Oklahoma boy's can be proud of.

The C6 started life as a run of the mill coupe and was transformed into a ZR1 clone using a set of Extreme front and rear panels with an extra 1.5" inches of fender flare. The wide flares give the C6 a very aggressive stance and allow for the addition of some serious rubber. A set of Nutek Classic 305 Custom wheels rear 20x13, front 19x10 are shod with Nitto Invo rear 345/25/20, front 285/30/19 rubber.

Other exterior mods include the addition of side skirts, a Cianci ZR1 front splitter, a ZR1 spoiler and a radical vented hood. LED lighting resides in all the exterior factory lenses. A special PPG velocity yellow coat of paint really ties this super car together.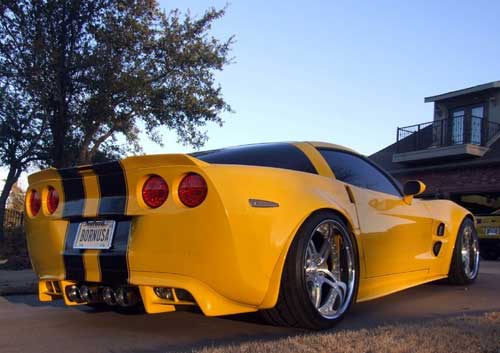 Under the hood resides a mildly warmed over LS2 small block. Some of the engine mods include a set of OBX headers a Vararam Intake with high flow coupler, and an endless array of polished accessory parts and stainless braided lines.

Kevin opted for the painted under hood look. Painted parts include: Air intake, Intake manifold, Fuse cover, Windshield washer reservoir, Radiator cover, Brake reservoir, Power Steering reservoir, Fuel Rail Covers, Radiator reservoir, Hood hinges, Inner fender wheels, Oil dip stick, Radiator shroud, Brake booster, and Hood shocks.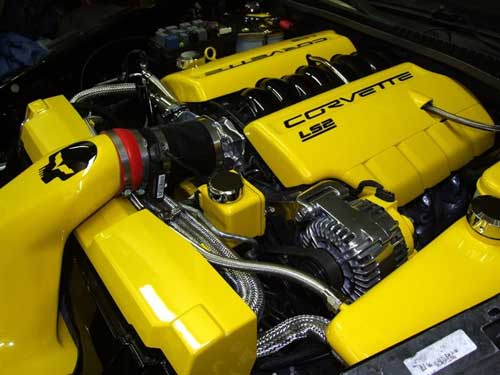 The interior of the C6 includes Lloyd ultimate floor mats w/"Jake" emblem, embossed C6 vette flag roof linear a aluminum gas & dead pedal set. Custom lighting effects really set the car apart at night. Blue LED's have replaced almost every interior bulb on the car. These include special super bright foot well door red reflector lights. To further spice up the interior an ergo "D" style steering wheel
, center console, ebrake boot handle, shift boot and door arm pad from
from D
own South Vettes were added
.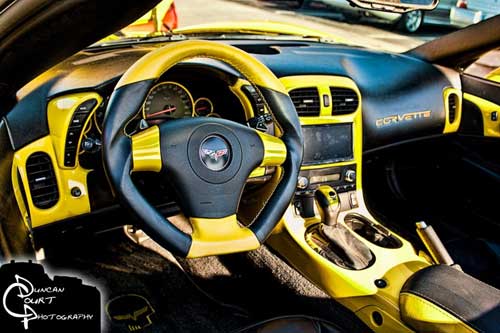 Custom painted interior parts include radio bezel, gauge rings, dash door trim parts, air conditioner vent surrounds, steering wheel, hatch panel and sun visor. A custom Alpine 500 watt stereo system bangs out the tunes in good order.


The logo on the tags say "Born in the USA" this all American rendition of America's only sports car does it all.





The laundry list of mods includes:



Exterior


Custom Lower Rear Valance
Clear side markers
HID fog lights
6000k driving light
Billet Grill
GHL exhaust
Tinted Glass

Painted calipers
Polished A-arms
PFADT Coil overs
Gorilla wheel lock system
Elite Engineering Tunnel Plate/Thermal-Abs



Under Hood


Billet hose separator
Polished Alternator and bracket
Polished Throttle body
Polished Water Pump
Billet belt tensioner
Black Chrome PCV Oil Catch Can-C6
Billet engine cap set
Billet Battery mount
LED lights
Yellow top Optima Battery



Interior


Color matched everything


Custom Stereo System


Alpine w505 head unit
Alpine Imprint
JL ZR650 CSI Speakers Front
JL C5 650X Speakers Rear
JL 10W7 SUB
JL 450/4 v2 Amp
JL 500/1 v2 Amp with base remote
JL wiring/terminals/fuse blocks
Big 3 wiring
Second Skin sound deading
Damplifier Pro 200 sq. feet
Luxury Linear Pro 50 sq. feet
Overkill 9 sq. feet
Speaker Pads
The Vette Nuts

return to index page