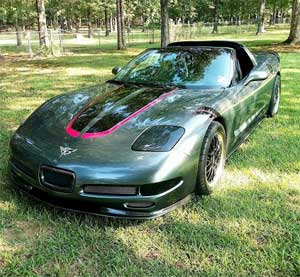 Mark Kendrick from Minden LA. is the proud owner of an 03 C5 that is nicely dressed in GM spiral medium gray paint. With 45k miles on the odo this C5 proclaims that it is a true driver.
The car is basically stock except for a Blackwing CAI that is feed through a carbon fiber duct. A mild tune was installed and it compliments the street-ability of this machine. A short throw six speed shifter moves the C5 through its paces and a 3.42 rear transfers the power to a set of Cray Manta wheels wrapped in 275 40 17 front and 295 35 18 rear rubber.
Mark was bitten by the "mod bug" after taking first place at a local car show. He wanted to compete with some of the tricked out Vettes that we constantly admire on various social media sites.
The LS1 and engine bay was treated to a custom airbrush job by the incomparable Steve Ray owner of Airbrush Incorporated. His airbrush work is the benchmark in automotive custom air brush design. Steve has transformed many hum drum Corvettes into show winners.


Other engine components were treated to the carbon fiber look compliments of American Hydrocarbon. The exterior of the C5 was fitted with a carbon front splitter, rear wing and ZR1 style side skirts that were supplied by another one of our favorite custom part manufacturers, Carbon Creations. A set of custom tail lights black chrome front screens, side fender coves and rear screens enhance the C5's aggressive stance.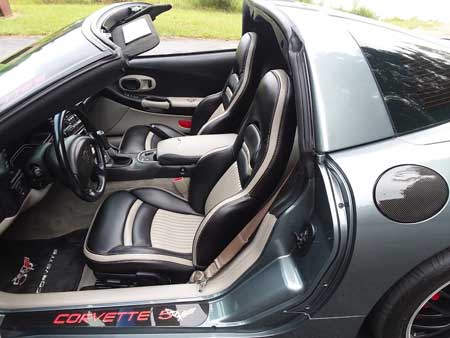 The interior of the C5 is equipped with a set of custom two tone Italian leather seats. The factory dual air, heads up display and a 12 disk Bose premium sound round out the package.