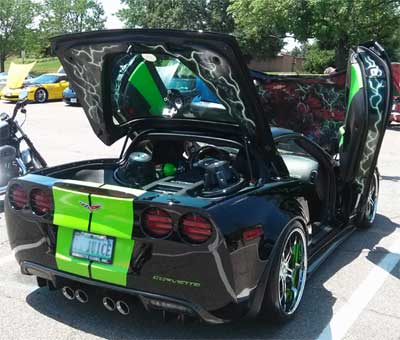 James Hunter from California Md. better known as "Juice", is a retired military man that has been a life long Corvette enthusiast. Jim's enthusiasm for most of the past decade has been dedicated to modding an 07 Z06 . In Jims words "It is insanely modded with tons of custom features".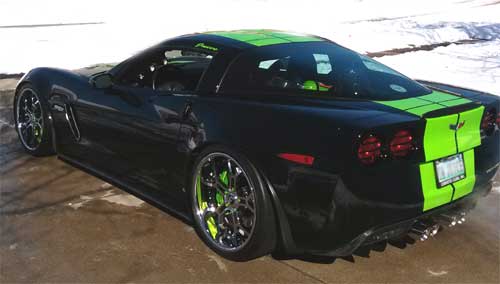 The LS7 was tricked out and includes a V2 "T" Trim A&A blower with Methanol injection and a set of Custom Comp Cam and Heads. The small block puts out over 700 ponies at 4-5 PSI of boost. That will wake you up in hurry.

The engine is kept alive via Valvoline VR1 racing oil. The exhaust exits through a set of Kooks Headers and Random Tech Cats with Badlanz 3" Cutouts. To add to the fun Jim installed a twin bottle setup with a 150 shot of nitrous.

The "Z's" Suspension is equipped with front and rear Hyperco Composite Leaf Springs. 20″ Forgiato GTR wheels are shod with Nitto Invo's 275/30/20's front, and 345/25/20's rear, in the rear.attempt to put the power to the ground. Some very unique exterior airbrush work sets this 'Hyper Vette" apart form the crowd.

The car is also adorned with custom stripping, rim coloring, powder coating and Hydro Dipped parts. The interior work includes a very taste-full blend of Ostrich and black swede. A mega loud Alpine Stereo System with PDX-M6 amps pump out the tunes.




Jim's first driving experience with a Corvette came at the tender age of fourteen. His uncle, who was playing professional Football at the time for the Atlanta Falcons let Jim drive his C3. Jim's very trusting uncle told him to "HIT IT", and that's when his love affair with Corvettes began.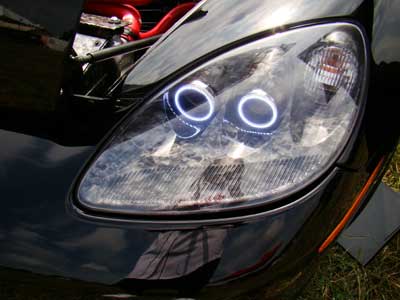 The Z06, aka the "Beast" is Jim's fourth Corvette. When Jim acquired the Z he swore to everyone that this car was perfect and he wouldn't do anything to change it. The Corvette mod bug took a very large bite and is still holding on.

Jim tells us that his love for this American made muscle car will never end.
The Vette Nuts

return to index page