Car of the Month
This is a new section that will be highlighting Corvettes that in our opinion represents what "Corvetteing" is all about. "Cotvetteing" is not about high priced factory or manufacturer sponsored cars. It's not about being the darling of an ad agency whose only goal is to sell a product. It's not about being one car in a stable of cars for the rich and famous. "Corvetteing" can be summed up as a passion for a personal form of rolling art.
John Edwards is someone that represents what a true Corvette aficionado really is. John eats, breaths and lives the Corvette lifestyle. John and his 06 ZO6 can be seen at almost every club sponsored event in South Florida. If there is a car show John and his ZO6 will most likely be in attendance. More often than not John's Vette takes home a best in show trophy.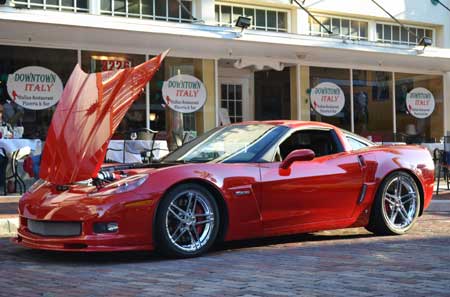 John has literally put his heart and soul into transforming his C6 into a stunning example of what a Corvette should be. His mighty ZO6 has been treated to extensive engine mods that include custom heads, cam and headers. A custom Corsa exhaust system sounds off with attention getting authority.
The exterior sports a GM spoiler, chrome inserts, a ZR1 front spoiler, custom logo LED tail lights and many other add ons.
John has taken his car to the next level when it comes to engine bay detailing. An appropriate blend of chrome and paint makes the engine bay a show stopper. Johns Vette is a work in progress. John tells us that the car will never really be finished. As we speak John is rethinking the engine bay theme to include various custom stainless pieces from our friends at American Car Craft.
Thanks John for helping to keep the true essence of the sport alive and well
The Vette Nuts