The Speed Vette


Jeff Monchlev has had an ongoing affair with a very special 1972 C3 Corvette.
The 72 was Jeff's first Corvette . He traded his 1969 Camaro for it when he was still in High School. The car underwent a restoration in 1986 and it was sold shortly afterwards. In July of 2014 Jeff happened to see his old flame and bought it back from the same person that he originally sold it to.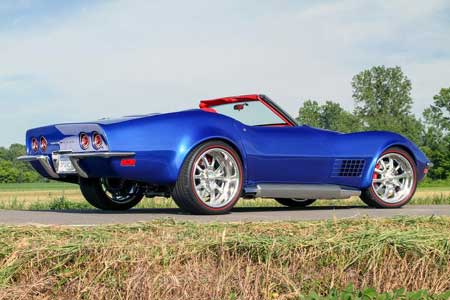 The car was in the exact same condition as when Jeff sold it as it had been in storage since 1986.
With the exception of paint and interior, Jeff did the work himself. This included fabricating a custom Speedvette LT1 long hood, and C6 inspired Deck Lid without the top latches. Jeff also designed and installed a smooth firewall kit and a customC3/C6 dash kit.

As work began on the front clip, a new hood was developed. The read clip was designed around factory C6 tail and marker lights. A new dash was created around the center console. This was a complete conversion which included rocker panels, termination panels, headlight brackets and front spoiler.



In addition a complete convertible rear clip was designed which includes the deck lid and waterfall. The final result was a complete marketable body kit that enabled a conversion of a C3 to either a coupe or convertible C6.





Jeff finally completed the restoration 2018. The C3 hit the show circuit during the summer of 2018. It was then presented for sale and sold at Barrett Jackson Vegas that same year.
Jeff is the owner of Speedvette inc., a business that evolved from a headlight project on an '80 C3. The original concept was to graph new C6 headlights onto the body of a C3. But as many projects do, this one became a much bigger undertaking. The concept evolved from an idea of creating a C3 that incorporated the advanced looks of a C6 Corvette.

return to index page