C5 on Fire



Holly Turczyn from the Garden State of NJ is the original owner of this outstanding 2003 50th Anniversary Edition Coupe. The C5 has been treated to a fantastic custom airbrushed "fire" paint job that really makes it stand out in the crowd. The C5 is no garage queen as Holly has driven it multiple times cross country to the "holy of holy's" of Corvettes in Bowling Green, KY, The C5 has over 77k miles on the ODO and still looks factory fresh.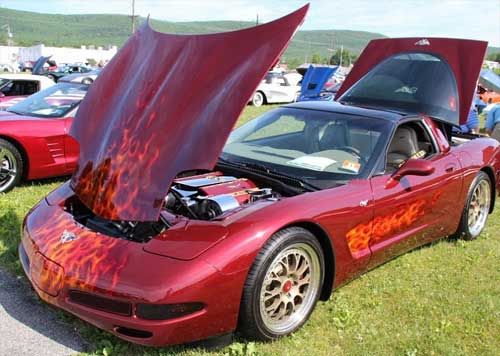 Improvements to the coupes look include a set of Kinesis K28 18 X 9.5 front and K29 19 X 10.5 rear shot peened gold anodized wheels. The new wheel combo is enhanced with C6 Z06 style front and rear splash guards and anniversary red powder coated brake calipers with drilled and slotted rotors.
A set of black cherry colored rear and side lights really compliment the flames.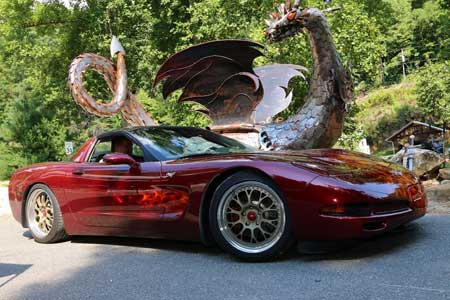 Motivation of the C5 is enhanced via a Black Wing CAI, a set of 3.42 gears, 3200 torque converter, long tube headers and a Corsa Indy Pace Car exhaust system. The engine bay has a custom Embroidered heat shield, and various painted, carbon fiber and chrome engine cover parts




The C5'S interior has been upgraded to include a set of Vette Essential custom seat covers, steering wheel and console cushion. Anniversary red floor and rear mats offset the stock look. A double din radio bezel house a Pioneer sound system that includes GPS and a rear view camera. A Valentine 1 radar detector and a"blast from the past" CB radio keeps Holley in tune with her surroundings.




return to index page