C7 GS Dream Machine



Mike Hendershot, lives just a few miles from the music capital of the world, Nashville. The real music for Mike was when he first saw and heard the sweet sound from his 2019, Grand Sport. Mike said that he really fell in love with this sweet machine and could not resist making it his daily driver. Mike has logged over 11,000 miles in his dream machine since purchasing it last October.

Mike first became interested in Corvettes about ten years ago. His brother had a C4 and C3 and Mike loved them both. Mike's other car is a 1998 C5 convertible. Mike's C5 had always been his favorite until he was exposed the the C7 experience. Mike likes the C7 so much that he canceled his order for a C8.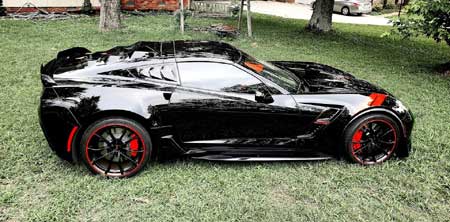 Mike's C7, aka "The Beast", is a black Gand Sport Heritage edition accented with spectacular red front fender racing hash marks. This GS is also equipped with a very mean looking stage 3 carbon aero package. Custom rear and side louvers give this machine a very special retro "Bat mobile" look. The deep black paint has been treated to a full paint correction with seven coats of ceramic pro protestant.

The car's look and style was enhanced with a very Bat Mobile looking set of rear and side louvers. Red rear diffusers, blacked out side markers, carbon exhaust filler, carbon front spoiler and rock guards round off the look.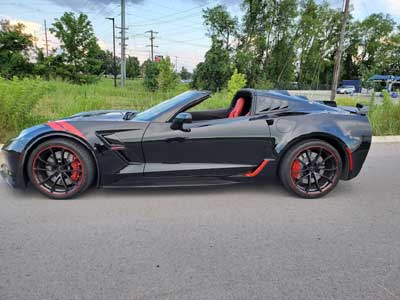 The ceramic coated adrenaline red interior provides the perfect contrasts the black carbon flash package.
return to index page