The Punisher Z06

Giovanni Guzzi a Navy Vet and retired Fire fighter is no stranger to the high performance Corvette hobby. He has owned and modified three Corvettes over the years. His latest venture into the world of speed involves a 2007 Z06. He purchased the 2007 "Z" in 2013 it had about 8400 miles on the odo and was completely stock. To put this in perspective we must remember that a bone stock LS7 produces over 505 hp and 475 ft lbs. of torque. Those numbers are not all that impressive in todays world of 650 horse plus super cars.




The C6 Z06's real secret advantage is that this car tips the scales at around 3,100 pounds. With a good driver a stock C6 "Z" can waltz down the 1320 in the low to mid 11's. The new breed of heavy weight super cars need at least 650 plus hp to match those numbers.


Most C6 Z06 owners soon tire of the factory supplied mega performance of the legendary LS7 and Giovanni was no exception. His aim was for a total super car transformation. The list of performance goodies is very extensive. The LS7's power was boosted via the use of a Pro-Charger D1 blower with flip drive and water meth. injection.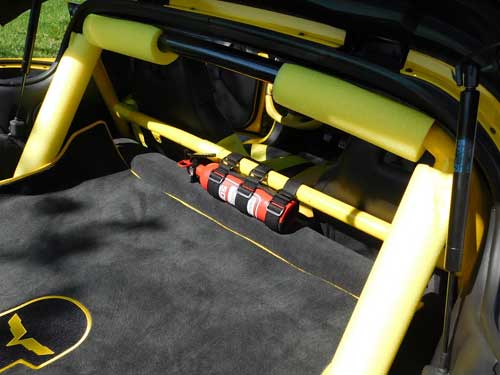 A reworked RPM TR6060 Trans and McLeod Dual Racing Clutch transmit the mega torque. A set of racing pistons, and a 660 lift and 220 duration cam keep thing moving nicely. To keep things coll a Dewitts Shorty Radiator and dual Rad Fan set up was installed.



All this translates into some very big power numbers. Rather than quote dyno figures Giovanni told us his best quarter mile run to date was in the high 9 second range. That my friends is super car territory. Getting the car to this point was not an easy task. Giovanni trusted the work to a local who botched the engine mods. It took over one and a half years to finally sort things out. Live and learn, the motto here is to exercise "due diligence" before trusting your car to anyone.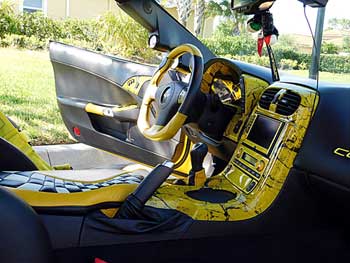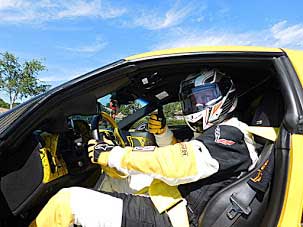 Giovanni's "Z" really stands out in a crowd. The engine and many of the interior parts have been hydro dipped. Carbon fiber rules on this baby, hood side skirts, extended splitter and rear spoiler accent the wild yellow paint. To keep the track operators happy a five point cage was also installed.

Congrats Giovanni on a truly outstanding project.
return to index page