South West C5

Our last cover article featured an extraordinary customized C4 Corvette that was owned by what we refer to as a true Corvette fanatic. The fanatic in question is Greg Gonzales from Arizona. Greg has always had a passion for Corvettes; he told us that he was hooked on Corvettes early on in life. As a kid growing up in Santa Barbara California he was first mesmerized by the growl of a C2, the rest is history.

Fast forward some years and many Corvettes later Greg still loves looking and working on Corvettes LT4PLAY, Greg's radical C4 was the first time he pushed the modification envelope on a Corvette. Not having any limits is in Greg's words "a blast".
After finishing his C4 Greg realized that his wife was driving an unmodified pristine 2002 electron blue C5. Greg's wife Susan allowed him to tinker with her car. Tinkering turned into some wrench turning which turned into a full blown project car.
The first thing Greg did was to put a list together of all the parts that would need to be removed from the car for the chroming process. After the list was created the parts pulling exercise began. Greg's goal was to create something very different from what he had been seeing at the local car shows.
Greg's solution was straight forward and simple. He decided to for a clean engine bay look. This entailed keeping the factory items in place and painting the forward tanks, FRC's and air bridge. Greg blended chrome into the mix and finished the look off with high intensity sapphire LED accent lighting.
In an effort to save money Greg completed all the work except the painting himself. This regular guy approach to modifications allowed Greg to complete the car without breaking the bank.
The C5's total transformation process took about nine months to complete. The official unveiling of the car took place in Tombstone, AZ on October 7th and Susan walked away with the Best in Show Trophy, the look on Greg's wife face after winning that trophy was the frosting on the sweet cake of success. Here is a list of the changes made to the Car.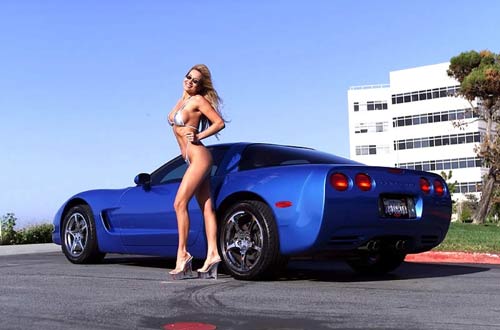 The engine bay includes chromed and polished alternator, alternator brackets and bolts, belt tensioner billet pulley, BBK air bridge, Donaldson black wing cold air induction filter, Weiand Lingenfelter lsx ported & polished intake runners ported for nos, throttle body ported to 85mm and polished internal and external, rpm custom performance tuned, chromed engine bay fluid caps, stainless steel braided hoses, fender rail covers t304 stainless, fuel rail covers and radiator reservoir's painted electron blue. The underside of the hood was painted electron blue with some accent high intensity sapphire led lighting
The cars interior modifications included, billet aluminum gauge surrounds, double din center console, Pioneer AVH-4300 DVD 7" LCD screen ,Rockford Fosgate T-500-1BD Mono Block Sub AMP, Rockford Fosgate T-400 4 Channel AMP,RPM custom rear firing sub enclosure & amp rack electron blue, Alpine type r 10" 1800 watt sub (rear),focal 690cvx polyglass 6x9" 2 way speakers, focal 165ca1 access polyglass 6.5" 2 way speakers, RPM Custom made two tone leather seats black / grey center console with leather logo cover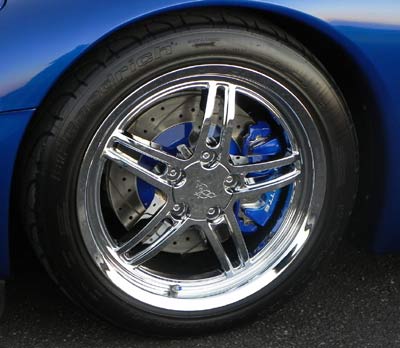 External mods included EBC drilled / slotted rotors with powder coated candy blue Corvette calipers, T304 stainless brake pad Inserts, stainless front and side air vents, tail light chrome logo surrounds, billy boat performance bullet exhaust system vertical door's by Dream Car, custom Cray Scorpion wheels & BF Goodrich front 255 40ZR 18 and rear 295 ZR 19 rubber.