Black Stallion

850 Wild Texas Horses

Photography by
Westin Smith
Gordon Vogel of Dallas Texas is no stranger to Corvette mania. He has had run in's with a 73 C3 and an 80 C4. Gordon's latest toy is a highly modified 08 Z06. Gordon is the proud father of triplet sons who also appreciate great looking cars. He purchased the "Z" to help strengthen his bonds with his three sons. The family's mutual interest in fast cars has really enhanced that bond.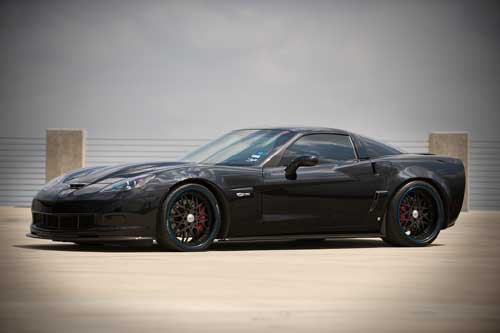 In Gordon's own words "this thing is beast"! Driving this Z can be a very intimidating experience. The power of this Z06 is intoxicating. The intoxication comes via a 250 shot dose of Nitrous that boosts the already heavily modified LS7 to 850+ RWHP. At full gallop it seems as if you can hear this black stallion from a mile away.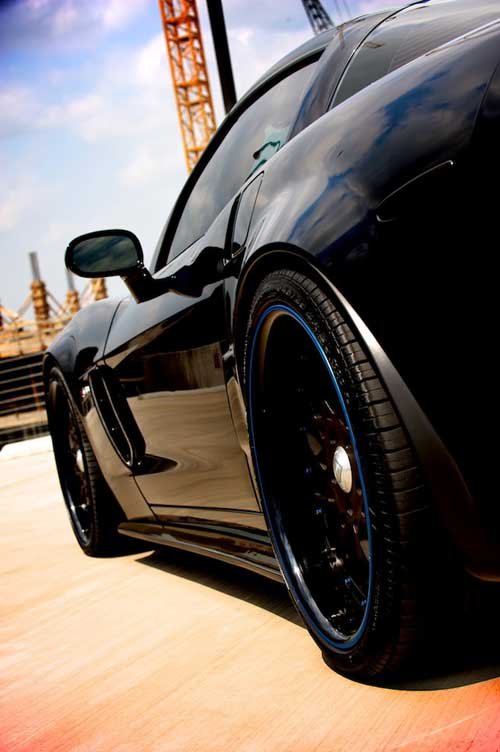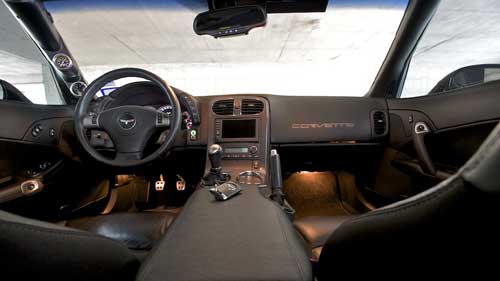 Custom blue pin stripped Breed wheels fitted with Nitto Invo 355x 20 rear tires help tp put all of those juiced horses to the ground. The engine was fitted with a special grind Comp cam. A set of Cooks long tube headers help to get things get interesting. The dual tank laughing gas is controlled with a graduated accelerator system and as mentioned previously is good for an extra 250 horses.
The rest of the intake system utilizes a FAST 102 manifold, Hurricane air intake, large capacity fuel injectors and a high output electronic fuel boost system. Here is the real trick; Gordon's "Z" is equipped to use E85 fuel. E85 is the stuff that is making American corn farmers rich. The ethanol based fuel is rated to yield about 106 octane. The high octane of E85 facilitates forced air applications, or in Gordon's case heavy nitrous, while minimizing the potential for engine destroying detonation. A custom built LS7 racing block helps to contain the mind boggling internal pressures of nitrous. The racing block was added after an engine destroying encounter with the Texas mile and a missed fifth gear. Specially prepped ported and polished heads keep the fuel and air focused on its deadly mission.
Gordon's Black Stallion is fitted with various exterior carbon fiber add on's that include a very neat carbon vented hood, carbon front splitter, side rocker extensions and rear valance.
return to index page