Project "Z" - AKA Son of Godzilla



We have been fans of the Generals modern "Z" cars for many years. Our respect for the letter Z began with the C4 ZR1. That C4 Z touted an exotic 4 overhead 32 valve 375 hp LT5 manufactured by Mercury Marine. That beauty had a top speed of over 175 mph that was really only limited by early 90's tire technology. The next wonder "Z" made it appearance via the C5. The LS6 in the C5 Z06 produced an unheard of 405 hp. Zero to sixty times in the 3,100 lb could be had in under four seconds, the quarter disappeared in in around 12.7 seconds. Prior to the Z06's entrance the only cars to produce this type of performance had names like Hemi Cuda or 427 Stingray.

Yes with the new millennium the performance drought was officially over and the horse power wars were on again. The boys at GM were determined to win that war this time around. In 2006 Chevy upped the ante and introduced the most powerful car in its history. The all new C6 Z06 pushed the performance envelope well beyond the capabilities of most mortal men. The new king of the hill sported a high tech small block that defied the laws of physics. The new 427 cube LS7 produced an amazing 505 horses and could push the 3,100 lb C6 to sixty in under 3.5 seconds and with an average driver traverse the quarter in the in about eleven and a half seconds. Back in the day numbers like that were only produced by highly modded cars running in super stock classes.

Over the past several years we have been enjoying the C6 Z06 experience. Our goal was to take a "plane Jane" Z car and transform it into a show winning platform that our sponsors could use to showcase their products.

There is no pretending with the C6 Z06. The C6 Z came standard with a rock crusher six speed Tremec manual tranny, no pussy paddles available on this monster. In reality the C6 Z has only two speeds; stop and insanely fast. There is no pretense or excuses, The C6 Z06 is as bad ass as it gets for a street car. Quiet Sunday afternoon strolls and easy trips to the supermarket, as my NY buddies would say: "Forget about it". The car even in factory stock trim is a rabid animal that doesn't like you and does not like to be driven by you unless you constantly push it to its limits. We gave our Project "Z" car the nickname of Godzilla in commemoration of the animal that destroyed everything in its path.

Our experience with Godzilla was very rewarding. We got to play boy racer every time we drove it. Our many sponsors helped to transform it into a consistent show winner. All good things come to an end and that end came when we saw a pristane 2016 C7 Z06 for sale at a local dealership.

The C7 was dressed in GM torch red paint and was equipped with a top of the line 3LZ package. This package has more bells and whistles than the space shuttle. The car was also equipped with a stage three carbon flash areo package. A huge rear spoiler, side skirts ,over sized front splitter and exterior ducting give the new Z car a very futuristic appearance.




It took us a couple of days to figure out most of the electronic wizardry that the C7 employs. We tried to read the supplied GM manual but soon realized that it was written by people that probably had never driven a Corvette. If you have questions about the secret inner workings of a C7 all you have to do is google the question. There is a wealth of readily available YouTube videos that will explain anything and everything about how to use your new toy.


We tried to come up with a subjective way to compare the driving experience between the two generations of this bad ass machine. The C6 Z was rated at 505 horses and 476 ft lbs of torque. The C7 Z06 is rated at a whopping 650 horses and 650 ft lbs of torque. You would think that with such a wide gap in the output there would be no question in the C7's ability to run away from its older sibling. Well think again, if you put a stock C6 Z against a stock C7 Z in a 0 to 60 sprint they will both hit the mark in about 3.4 seconds. How can this be you may ask, GM has advertised the new Z as a sub 3 second machine.

The new Z is capable of hitting sub three second 0-60 mph times if everything is picture perfect. The requirements include dry 70 degree weather, super sticky tires and a professional driver. Unfortunately the real world is never perfect, most of us don't run on street slicks, only get a handful of great weather days and have only average driving skills. To make matters worse the new C7 Z has put on some weight in its old age. Approximately an extra four hundred pounds of extra girth on the C7 is using up every bit of the 145 horse advantage the the LT-4 has over its older LS-7 counterpart.

While on the subject please realize that most of the LS-7's on the streets have had the heads reworked to avoid the self destructive nature of the factory valve defect. Almost all of the repaired LS-7's have had a cam and tune thrown in for good measure. The most modest of these bad boy's are producing well over 600 horses. To add more confusion to the mix is that most of the C6 Z guys have had their cars for a while and have learned how to drive them. On the other hand there are quite a few "new-be" C7 owners out there that don't have a clue. Our advise is to stay clear of that next C6 Z that pulls next to you until you get your act together.

OK enough about the C6 Z but we had to get it off our chests. The C7 Z06 has evolved into a real car. You can drive it every day, take it to work and get groceries with it. The blower in the LT-4 has a very healthy appetite. Around town you may be able to squeeze about 20 mpg if you are very carful with your right foot, 15 mpg is about the norm. The copious amounts of torque are quite literately intoxicating and pushing the peddle becomes very addictive. A full "Banzai" down shift into second at around forty mph will compress every bone in your body. When the blower kicks in its like the Millennium Falcon going into hyper space.

The C7 is blessed with several driving modes that can be accessed with the simple twist of a console mounted knob. The modes include weather, economy, touring, sport and everyone's favorite, race. Each mode will calibrate the engine power, sound, and suspension to various levels.

If you just want to cruise on the highway at high speed choose economy and the car will drop into four cylinder and quiet mode. Touring mode will make your wife happy as the sound is subdued and the suspension is adjusted for what we call a Cadillac soft ride. Choose the sport mode and the wide world of sports cars opens up to you. Sport mode yields an aggressive exhaust note a firmer ride and an increased feel of the road. Track mode will give you the ultimate race experience. The rock hard feel and sound of a true sports car is unleashed. When in Track mode there are also several sub modes that will further test your "Speed Racer" like skills.

Our advise is not to turn off the electronic nannies unless you are an experienced race car driver. Just ask the VP of GM that recently put a new ZR-1 pace car into the wall at this years Detroit Grand Prix. Talk about embarrassing moments.

Driving the C7 Z06 is a totally satisfying experience. The car is filled with almost every creature comfort known to man. There was a time when you could not be swaddled in this kind of luxury unless you were driving a Mercedes or BMW. Our 3LZ equipped car had everything from cooled seats to a fancy built in "Go-Pro" camera, that GM refers to as a performance data recorder. Depending on the storage capacity of media card you install the PDR can record hours of driving video. The video can also display all driving telemetric's such as 0-60, quarter mile, and a host of other info.

Our car was equipped with the seven speed manual Tremec TR 6070 transmission. The new heavy duty 650 ft/lb of torque ready rendition of this tranny has made it the gold standard for muscle cars. The short throw manual shifts like "butter". Easy shifting and an extremely light clutch pedal make for effortless banging through the gears.

The Tremec also features something called active rev matching. This feature which is activated via the paddles on the steering column, matches engine and vehicle speed on down shifts. The rev matching feature is primarily designed for track racing and allows for consistent precise down shifts . The C7's computer "blips" the throttle on a downshift and matches engine speed with wheel speed. Rev matching does away with old fashioned heel-toe driving delivering a perfect down shift every time.

The feeling of joy is very hard to describe to those of you that have never driven a high horse manual transmission car. We venture to say that there are almost two generations of drivers out there that have never been taught to drive a manual equipped car. That's the reason GM developed their new auto slush box. In an effort to widen its market base to young people GM created pre-design focus groups. The focus groups that provided input on the C7's design were almost exclusively made up of late generation X's and young Millennial's. The main request of the these youngsters was to bring the Corvette's interior up to European standards and equip it with an automatic transmission.

Those of you that have driven manuals in your past life probably equate them to the clunky gear crushers that gave you cramps in your left leg. This Tremec is a whole new ball game, as easy as an automatic and twice the fun. Unless you have to commute with your car every day in heavy urban traffic consider the manual.

While we are on the subject of transmissions the new hydra-matic eight speed '8L90' transmission, was designed completely within GM, by a dedicated team. It was the Generals first attempt at creating its own tranny. The new automatic shifts faster than lightening and can handle up to 750 ft/lbs of torque. We are not going to discuss some of the early production problems ie... shift lag, over heating, torque converter failures or vibration, that have plagued many C7 auto Z06 owners. The bottom line is if you don't modify, track or engage in frequent spirited driving you will probably will not experience any of these problems. Good luck on that one.

As of this article our new C7 Z will be taking an initial plunge into this years show circuit. We will be using our Z to showcase various products from our sponsors and help promote what we like to refer to as "the Corvette lifestyle". Ever wonder why after over half a century Corvette owners still wave to each other? The answer is that owning a Corvette entitles you to membership into a very exclusive club that has no borders.

We have already started the customization process on our Z. We decided to "bling-out" the engine compartment. Our friends at American Car Craft (www.americancarcraft.com) manufacture some very nice engine jewelry and were kind enough to guide us in the right direction with our new Project "Z". We have covered every exposed surface of the powerful LT4 with shiny stainless steel.


American Cart Craft offers some quality stainless items that can in most cases be easily fit over every item in your Corvettes engine bay. Most of these stainless items simply lay over the factory parts and are fastened with either velcro or double sided 3M tape. Most of you weekend mechanics can do the installation yourselves. Be prepared though to custom fit, cut and bend some pieces for the install. You also must reroute some of the many vacuum lines, hoses and electrical connections in order to install some of the larger pieces. We had a particularly difficult time installing the super charger cover. Those YouTube installation videos that ACC publishes sometimes do not give a 100% accurate description of the entire installation process.

The only draw back besides the installation to stainless is its tendency to get dusty and grimy every time you start up the car. Another concern when dealing with stainless is its propensity for scratches. If you don't lubricate the stainless surface with a quality cleaning product it will scratch. We use Griots Speed Shine (www.griotsgarage.com) with and wipe it off with a super fine micro fiber towel.

A super easy to install and very effective add on item is a product called Rim Savers by the Rim Blade corporation (www.rimbladesusa.com). This is a heavy duty plastic product that adheres to the outside rim of your cars wheels. The product protects the wheel from curb scratches and give the car a very desirable red line retro look. The good folks at Rim Blades sent us a set to try out. The blades transformed the look of the car.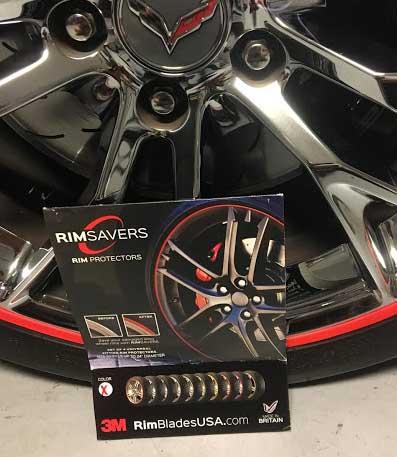 They are a snap to install, all you have to do is clean the rim edge with an alcohol pad and then apply some 3M VHB tape adhesive promotor. After the chemical dries all you have to do is slowly peel off the red side of the 3M backing and press the plastic Rim Saver into place. We get compliments on the new look at every venue that our Z has been in.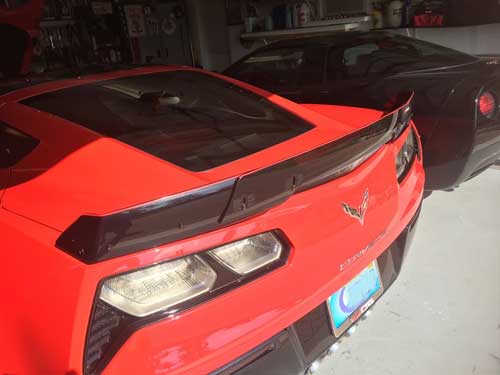 Stage 3 Z07 front winglets Stage 3 Z07 wicker bill

We also upgraded the Factory installed Stage Two areo package to a Stage Three. This included the addition of a high center section on the rear spoiler AKA "wicker bill". This is an adjustable section that is supposed to increase rear downforce on those 200 mph outings (lol :). We also replaced the front two stage two spoiler winglets with a set of taller stage three winglets, the car may never see NASCAR speeds but it sure looks fast.




We added some red pin stripping to the edges of all the black flash areo parts. The touch of red on black really sets off the boy racer look. The 3LZ interior is very hard to improve upon. Gone is most of the cheap plastic parts the GM is famous for. Good quality leather and aluminum trim makes for a very nice interior look.

We installed a set of stainless door kick panels and also tried our hand at carbon fiber wrapping the dash. The wrapping takes some patience and practice and we hope to get it right the next time we try.

The car in stock trim is powerful enough for most sane people. Whoever said we were sane. Future plans call for an aftermarket intake, some exhaust work and maybe a set of undersized supercharger pulleys to increase boost beyond reasonable levels. We really have to carefully consider these type of performance mods as any one of the m, especially if a re-tune is involved, will void the GM factory warranty. These modern electronic wonders are fun to drive but look out if something goes wrong. A trip to the dealership sans a warranty will cost you an arm and a leg.





return to index page