C5 Corvette Attitude


Every once in a while we see a Corvette that really catches our eye. We recently saw one that made us look back more than once. The C5 in question is a 2002 with a dazzling electron blue paint job.
Tim Fisher is the proud owner of this gem and has been enjoying and modifying it now for thirteen years. The C5 was bone stock when Tim purchased it but he has painstakingly transformed it into a sure fire show stopper.



Complimenting the electron blue exterior paint Tim Under hs treated the engine compartment to a similar treatment. The engine bay has been treated to a very effective combination of custom paint, carbon and stainless steel.

The interior leather was changed out to reflect the blue theme of the C5. Seat , boot and other components have been finished with the electron blue theme. Stainless roll hoops give the car that boy racer look. A 1200 watt amp and two ten inch competition subs kick out the tunes.



The exterior of the C5 was treated toi a custom VIS Racing Carbon Fiber hood,. A set of C7 Z06 wheels and custom front and rear spoilers sets this blue devil apart from the crowd. A n aftermarket B&B exhaust system lets everyone know that Tim is in town.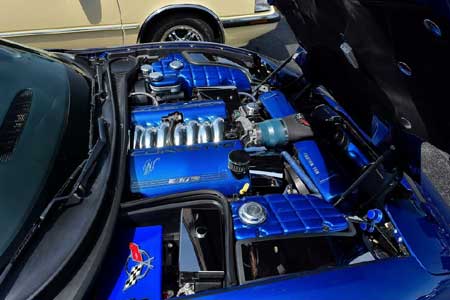 Tim and his wife show the car at many various venues. The shows have included the prestigious Bloomington Gold event in Chicago ,Funfest in Effingham Illinois the Corvette Expo in Sevierville Tennessee and the Bash at the National Corvette Museum as well as many local shows.





Tim tells us that he has had a love for America's only sports car since he was s six years old. It stared when his parents drove home in a new C3. From the moment he feasted his eyes on it Tim knew that someday he would own one.


return to index page