A Military Dream


Erman Jefferson is currently on active duty in the United States Navy. He is a E-5/petty officer second class and supervises an engineering repair division. That is very impressive considering he just celebrated his twenty third birthday. The 2008 victory red ZO6 that is the subject of this article was in fact a birthday present to himself. Earman's military experience has in our opinion given him the "right stuff" that is required to own and operate what we consider one of the most desirable performance vehicle's in the world.




Erman refers to his ZO6 as "she". We agree the ZO6 is a female that can caress as well as punish. We have never driven a factory stock car that has more visceral feedback than a C6 ZO6. You really have to drive one of these things to understand what we mean.



For the time being Erman's ZO6 is completely stock except for a set of Nitto Invo tires and a mild to wild exhaust control switch. The 08 zo6 is equipped with the desirable 3LZ package and Chrome wheels option.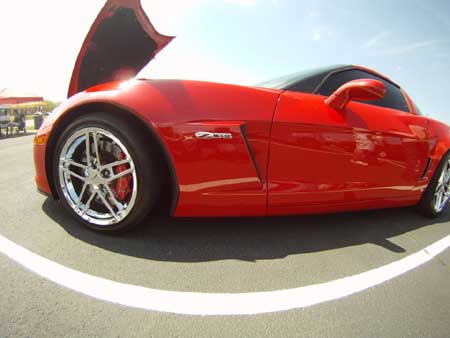 Erman hails from the 'windy city"Chicago, IL . He has completed two deployments to the dangerous Iran area of the Persian gulf. Erman just returned from a nine month nine month deployment. At the age of 21 Erman set his goal of owning a ZO6. After only two years, his dream was realized. Erman has discovered why ZO6 owners are always smiling when driving this awesome machine.

The Vette Nuts


return to index page