High Horse C5


Erick Smith is a modern day "hot rodder" that applies his automotive talents in the Sun Shine state. Its amazing how many outstanding cars there are in Florida. Twelve months of summer weather and an endless supply of retired hot rodders make for a very interesting and unique situation.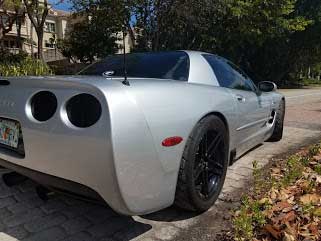 Ericks 2002 C5 started out as a very street worthy Z06. Street worthy was not enough for Erick, he was looking for a "street killer". The transformation began with a total revamp of the "Z's" LS6 power plant. The engine was treated to a set of ported and polished 243 heads, LS7 lifters and a Comp cam. American racing headers and "X" pipe with Borla axle back exhaust, vented catch can, LS7 oil pump, oil cooler, forged pistons, LS7 clutch and flywheel, 62lb injectors are just a few of the goodies that help keep this Z moving.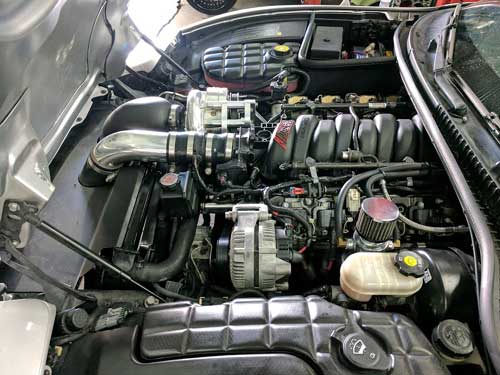 The real power maker is on the intake side of this monster. A 90mm throttle body, and 92mm Fast intake FEED an A&A supercharger. The combo puts out over 671 rwhp and 600 ft lbs. of torque on a Mustang dyno. All of this mayhem is contained within the factory LS6 block.

A MGW short throw shifter, pfadt bushings, LG GT2 coil overs, G1 sway bars help to reign in those extra horses. Stopping power is provided by two piece rotors up front with steal braided brake lines all the way around. C6 Z06 wheels wrapped in the Nitto help to motivate the car.

Erick started building his C5 five years ago when a friend of his got him into road racing. His friend had a winning C6. This motivated Erick to build a car that would out run him. Nothing like some friendly rivalry to bring out the bet in people, especially hot rodders. I
Erick tells us that his "Z" was a great build experience and is still a very street-able. The car is a head turner. At stop lights windows get rolled down when they hear the music of that beautiful exhaust note.

return to index page