Engine Bay Dress-up Tips

We have all seen them, when I say 'them" I am referring to the tricked out show rods that we all oogle over in the magazines and at shows. Chrome, stainless steel, air brushed masterpieces fill our heads with wonder and delight. The burning question that all us kids ask ourselves is "how do I get one of those"?

Most newbie hot rodders search the specialty parts catalogues in hope of finding the perfect combination of "bling" for their beloved muscle car. Most of the show car freshman will order a set of chrome engine caps and maybe one or two chromed out or stainless steel accessory covers. They start out with good intentions but find out very early in the game that a complete engine show package is well beyond their budget and more importantly their installation skills.

The best way to implement a full blown engine bay makeover is to take your time and carefully plan out the project. Most hot rodders put the planning phase aside and start throwing various mismatched accessories at the car. This "shot gun" approach is both expensive and frustrating. The frustration is recognized when our newbie never wins a show trophy after spending copious amounts of cash on his cars makeover.

The first task is to determine what exactly what are you looking to get out of the make over. Is your goal show or street oriented? Show oriented goals require extremes in both cash, time and know how. The best way to determine the best look for your potential show car is to take a close look at the winning cars at events that you attend. Take pictures of award winning engine bays. After you take the pictures congratulate the owner, flattery will get you everywhere. Ask questions about the mods that earned him the coveted best in show trophy. Show winning owners are very appreciative of your praise and will go out of their way to describe and point you in the right direction.

The newbie will find out very quickly that there are two ways to go in the engine bay makeover effort. The first way is to go with extreme "bling". Extreme "bling" entails replacing almost every part in your engine bay with quality chrome or stainless steel. Old school hot rodders prefer replacing actual parts with chrome plated units. This includes things like intake manifolds, alternators, carburetors and every non moving engine part the can be unbolted.

New wave hot rodders seem to prefer using high tech stainless steel covers to enhance the look of their new age muscle and pony cars. The benchmark in the automotive industry for stainless is the American Car Craft corporation located in Hudson Fl. Cameron Rivera heads the operation and personally designs most of the creations for his fanatical show winning customers. If you are thinking about doing a stainless theme for your car talk to the guy's at ACC first.
Stainless covers on a C6 LS7 Stainless covers on a C6 LS9
Stainless covers on a C6 LS3
The second school of thought entails the use of custom painted components to dramatically transform the look of an otherwise hum drum engine bay. The easiest way to achieve this look is to thumb through the specialty parts catalogs and browse through pages listed as painted engine dress up. Mid America, Ecklers, Zip and West Coast Corvettes are some excellent sources for painted accessories. These big parts houses act as middlemen to a handful of specialty accessory manufacturers. The customized parts are generic in nature. They offer just enough quality to satisfy ninety nine percent of the customers that place orders. It's the other one percent that wins the trophy.
Trophy winners go that extra step and to do what ever it takes to ensure that their vehicle is a cut above the rest. The next time that you are at a major show ask the top dog's where they get their parts from. Dollars to droughts they will tell you that they order directly from the manufacturer. Most of the trophy winners are on a first name basis with the designers and owners of the accessory companies. If the design company is within driving distance the top rods will always arrange to have their cars customized on site. This is a far cry from the generic mail order status that most people settle for. Remember that in order to win a top trophy there is no settling.
Painting accessories and parts can take several forms. If you don't want to order from the catalogs, parts such as fuel rails, battery boxes, air intakes and radiator surge tanks can be brought to a good body shop. The shop can arrange for some light sanding, priming and painting of your stock parts with matching body color paint. If done properly the results can be very good.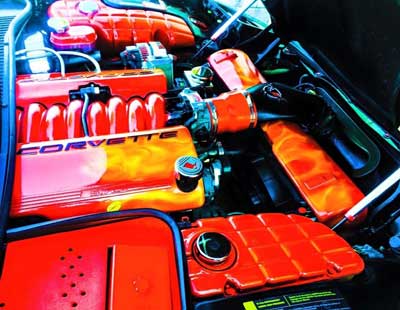 Painted surfaces LS3 LS1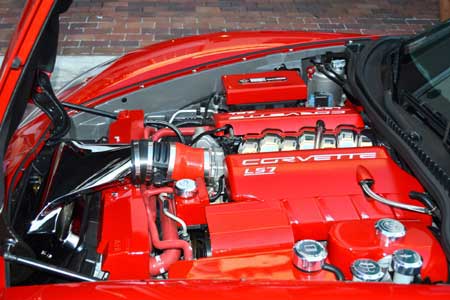 LS7 Hybrid Stainless and paint



If you want to take it to the next level the talents of a professional airbrushing artist must be employed. The services of automotive air brush professionals are in very high demand. Prices for a quality piece of automotive art can be a little above the ordinary hot rodders budget. The results are however worth the extra cost.

One of our favorite air brush artists is Steve Ray owner of Airbrush Incorporated located in Owensboro KY. We found out about Steve by talking to the guy's that consistently win trophy's at the local car shows around the country. Steve's work is to put it mildly breathtaking. Steve is a down to earth no nonsense guy that will consistently deliver show winning quality automotive art work.



Another way to go is the carbon fiber route. Carbon fiber is all the rage these days. The smooth high tech look of quality carbon accessories is very hard to beat. Engine bays and interiors done up in carbon art are among the top trophy winners.

An alternative to ultra expensive real carbon parts is a process known as hydro dipping. Any pattern can be transferred to any automotive part using this technique.

Custom hydro dipped fuel rails and covers are a real attention

getters

A show winning machine is yours to create. Whether it is in old school chrome, flashy stainless, conservative paint, high tech carbon or a hybrid combination of all of the above you are only limited by your imagination, budget and desire for perfection.

The Vette Nuts


index page