The ZR1 Experience



David R Thomas, the owner of Thomas Motorsports in Greer SC has been working on a very special Corvette model. The car in question is a 2019 C7 ZR1.
The ZR1 is Dave's fourth Corvette. The car that started his journey into Corvette fanaticism was a beautiful 1980 C3 that had its share of problems. Dave only kept the C3 for about a year as the inherent quality control problems of the C3 convinced him to seek a newer model preferably with a warranty.

Dave refers to some of the problems owners face with older Corvettes as the "Corvette Tax". Dave has had many performance cars over his 41 years of driving and racing. He has never owned a true dedicated "race" car as he always enjoyed the challenge of having a daily driver that performs as well as it looks.


In the summer of 2011 Dave went shopping for a new performance car. First on his list was a new Camaro. This first choice had a nostalgia factor as Dave's first car was a 1969 Camaro . He then test drove a Dodge Challenger, which was a pretty darn good but still no cigar. The quest finally led him back to the world of Corvettes. Dave initially wanted a C6 ZR1 or Z06 but could not find one that suited his needs. Dave test drove a C6 Grand Sport and was very impressed with the ride, drive and performance.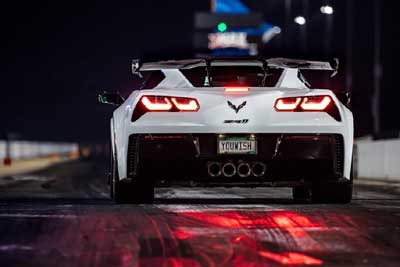 Dave purchased a 2011 GS and after about a year started modifying it. He upped the power by adding a supercharger and all the other bolt on's he could find. Unfortunately the car was totaled on a road trip by a hit & run driver. This prompted Dave to resume his search for the perfect Corvette.

In 2015 he bought a 2015 M7. Dave purchased the Z without test driving it and on the drive home he realized that he did not like the manual transmission. After four months he traded it in for a2016 A8 Z06. After a year of happy ownership he, as many Z owners do, began to modify and racing it.

In 2019 Dave got a call from a local dealership about a newly arriving C7 ZR1. After some minor haggling Dave bought the car. The icing on the cake was that the dealer gave him a lifetime powertrain warranty as part of the deal. The delima with GM warranty's is that almost any modification will cause GM to void it. No problem for Dave as his moded race car was a C7 Z06.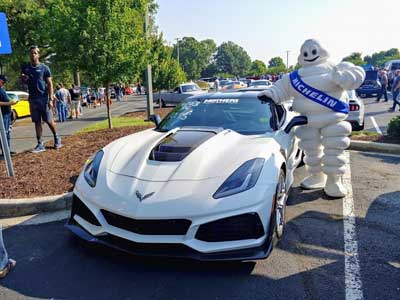 The ZR1 is Dave's go to church and date night car. I have had it on a couple of tracks, but nothing hard and heavy on the car. Dave says that the performance of the ZR1 is almost unbelievable. Since modding his Z06 he knows what it takes to achieve certain performance levels and the ZR1 is amazing. Dave says it drives and rides so much better than his Z06, almost a night and day difference.

Dave's 16 Z06 is currently number 1 on his local drag strips top 10 fastest street cars. and his 19 ZR1 is the fastest all stock ZR1 on the Corvette Forum. Dave shares the ZR1 experience at shows by allowing kids to sit in it and get their pictures taken by lots of parents and grandparents.
return to index page