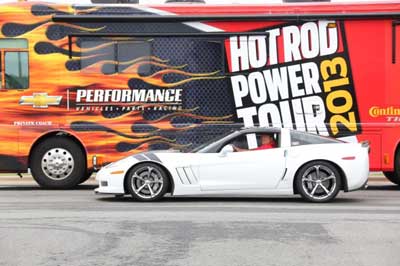 Show and Go Grand Sport

Dave and Karen Thomas of Greer, SC bought their Grand Sport in August 2011. Earlier in the month they were on vacation in Florida and it was Dave's birthday. His wife, Karen, asked what he wanted to do that day and Dave said go look at a few new cars.

Dave has been a GM guy all his life but he really liked the looks of the new Dodge Challenger so he decided to take a test drive the new MOPAR. Dave was impressed by how much power it had and it seemed to be a nice car. There just so happed to be a Corvette convertible across the street so he thought what the heck why not try it on for size. The Vette was also was a nice car, but he was not sold on it. Dave also took a new SS Camaro out for a spin.
Dave's first car was a 69 Camaro so he really liked the styling of it, but was not at all impressed with its power. Dave asked the salesperson if they had any ZR1's or Z06's. There were no super cars available only a Grand Sport. The sales person told Dave that the GS was a Z06 with a little less power (understatement of the year). Dave took the GS out for a test spin and fell in love with it. The GS was light years ahead of Dave's 80 coupe in terms of reliability and performance. A factory warranty was also a very desirable aspect of new Corvette ownership. Dave was bitten by the mod bug which would also take a bite out of the gold plated GM warranty.

Being a true car guy Dave started personalizing his new toy. He started by adding front fender hash marks and the mod bug took over from there. Soon after Dave added some exterior mods that included a ZR1 Carbon Fiber spoiler.
After realizing that the salesman at the dealership bent the truth a little about the LS3's power Dave decided to make things right by adding a blower to the LS3. An Edelbrock E-Force blower and a set of Kooks long tube headers with hi flo cats would do the trick. The added power mods peg the dyno at 650HP at the crank. The E-force as Dave tells us "made it a completely different car driving it became even more intoxicating". Dave took it on the 2013 Hot Rod Magazine Power Tour and went the entire distance, The GS is called a "Power Tour Long Hauler". The car even returns 28 mpg at hwy speeds, that's getting your cake and eating it.

All was fine for at least the first two months and then the mod bug bit again. Dave replaced the stock hood with a neat vented carbon fiber unit. Dave has won many local car show events and even took the GS on the 3,000 mile Hot Rod Magazine power tour.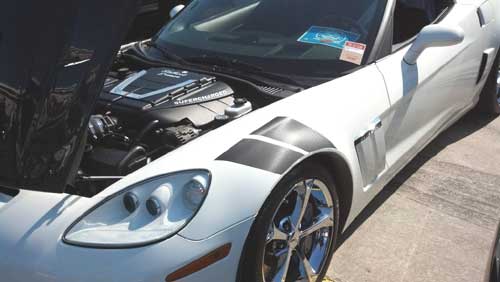 Dave's new found power made him a drag racing fan. The GS first bone stock run neted a respectable 12.40 1/4 mile ET at Concordes Zmax Dragway and 8.15 1/8th mile time at Greer Drag way. The blower and exhaust pushed the 1/4 mile ET to 11.39 .

The addition of a small shot nitrous kit aids in an inter cooling effect during the hot weather. All of the drag runs were made using Nitto NT05R drag radials. The best 1/8th mile time to date is 7.00 flat. Dave estimates that the car should be able to break into the tens second range in the quarter mile. The car dyno's out at 679hp on a mild shot of nitrous. That puts this GS into "Hyper-Vette" territory.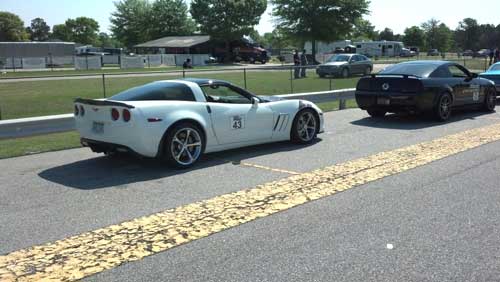 The GS in Dave's words is "absolutely awesome". He tells us that he can drive it any where and run it on a track and drive it back home with out any worries. While on the power tour Vic Edelbrock wanted Dave to display the GS at every stop. Dave's GS is a true "show and go car" winning both show and drag events.



The Vette Nuts


return to index page