Hot Wheels Inspired Show Winner

Dan Carroll's obsession with cars started at a very early age. As a child he played with model Hot Wheel cars. Dan was the owner of an auto body shop and now works as an automotive insurance adjuster. As an adult Dan and his young son continued the tradition of playing with model cars. At his sons request Dan took the model car hobby one giant step further with the creation of a spectacular Lemans blue 06 coupe.

The 06 is Dan's third Vette. He owned two 1971 stingrays in the past buts has always had his sites set on a newer model. When the time came Dan started looking for a Lemans blue coupe with ebony interior. After many weeks of searching and managing a budget Dan found a car that fit his requirements. The Corvette that eventually made its way to Illinois was a 2006 California car with fewer than 8k on the odo.

For two years Dan used the Vette as his daily driver. Like most Corvette owners daily driving means taking the car out only on sunny days and storing it in a controlled environment during the winter.

Last year Dan's attended the world of wheels show in Chicago with his nine year old son. Dan's son Tyler asked his father why he didn't have a car in the show. That is all the encouragement Dan needed to start the radical transformation process of his C6.

Dan decided to take a very methodical and planned out approach to the project. He began researching what he wanted to change and planned out a strategy for exactly how he wanted his Vette to look when it was finished.
The goal was to enhance the factory look by improving on both quality and design. The project was started by focusing on the interior trim and engine bay. Dan knew that in order for the look to be successful a design pattern would have to be developed that would enable both interior and engine bay to flow seamlessly together.
Dan started work on the interior trim and engine compartment working with Pat Scorzetti at American Hydro Carbon. The plan was to design the interior trim and engine bay in LeMans blue using different carbon patterns for each area.
During this process Dan decided that the door trim panels would be removed and sent out to be leather wrapped in true Italian black leather with Alcantera suede centers and accented with pacific blue stitching. New leather seat covers with customized embroidery and matching Alcantera suede bottom and back cushions finished off the look. A matching leather console base and lid was also installed.
American Hydrocarbon supplied various trim parts using a very unique blue carbon theme. Just about every interior trim piece that could be removed was changed out with blue carbon.
The engine bay is a show stopper. Almost every plastic OEM part was replaced with marbleized blue carbon specially fabricated by American Hydrocarbon.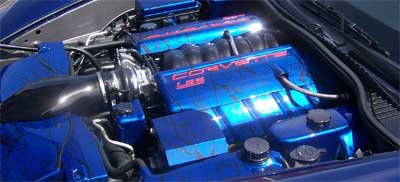 The hood liner features a spectacular air brushed all American design that was farmed out to master air brush artist Steve Ray at Airbrush Incorporated. Steve Ray's work is recognized as a benchmark in air brushing automotive art. The show winning hood mural in this C6 is a testament to Steve's ability to consistently deliver "the right stuff".
As with most upgrade projects Dan ended up doing a whole lot more than he originally bargained for. His goal was to complete the car prior to the 2012 50th anniversary of world of wheels car show in Chicago. Dan sent in his entry application never really thinking that his car would be accepted. He met with a Champion auto show committee member and explained his desire to fulfill a promise to his son. His son Tyler was the inspiration for the car he made Dan promise to finish it and compete in a major event. Approximately two weeks prior to the show Dan received his show welcome kit.
Dan's Corvette vehicle was entered in the conservative sport class. To Dan's surprise his car was chosen for Best in Class. Dan and Tyler graciously accepted the trophy and were acknowledged for a job well done. This was the perfect ending to a great project that had no agenda other sharing a common interest between a father and his son.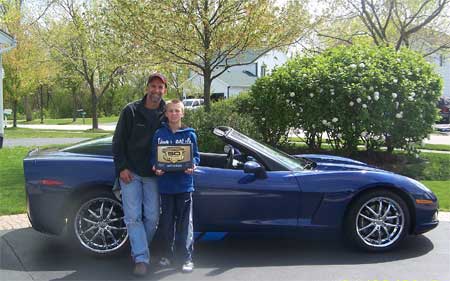 Additional Thanks are in order t:o:
Pat Scorzetti @ American Hydro Carbon for custom carbon fiber interior trim, door panels, and engine bay.
Steve Ray @ Air Brush Inc for his anmazing hood liner design,
J