The 1961 Corvette Convertible is a classic American sports car produced by Chevrolet from 1953 to present day.
The 1961 model year was the last year of the C1 generation of the Corvette, which was produced from 1953 to 1962.

The 1961 Corvette Convertible is particularly noteworthy for its sleek, aerodynamic styling and advanced features such as a four-speed manual transmission,
independent rear suspension, and powerful V8 engine options. The car was available in a range of colors and trims, with a variety of
options available to personalize each vehicle.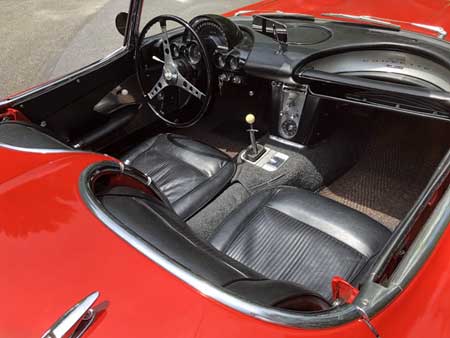 Today, the 1961 Corvette Convertible is highly sought after by collectors and enthusiasts for its combination of classic styling
and advanced features, as well as its relative rarity.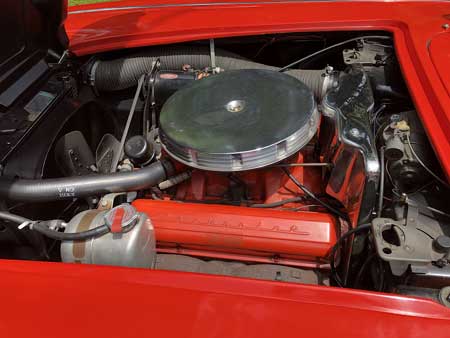 While the exact value of a 1961 Corvette Convertible can vary depending
on a number of factors such as condition, mileage, and originality, they are generally considered to be quite valuable
and collectible, with some examples fetching high prices at auction.
Our featured classic is very well equiped and is a constant head turner. The car is endowed with a matching OE hardtop
53,175 original miles and is in outstanding show condition.

The exterior is Roman Red with a pristene black interior. The car comes with a black convertible top plus a matching auxiliary red hard top
The C1 is motovated by the venerable 283ci/230hp engine and a Borg Warner 4 Speed manual trans/hypoid rear with a steel tail shaft.
A Garner dual exhaust sysrem is a perfect fit for this retro muscle car.
The C1 was treated to a complete frame off restoration in 1982.
If you are in the market for a true American classic look no further as this rare beauty is available for sale. If you want more information please call our resident sale consultant
"Corvette Jack' at 239-280 6855