"Photos By Rohrbach Photography"
Chris Vinson is no stranger to the Corvette experience. Chris has owned and loved, seven Vettes in his lifetime.
This collection includes his latest prize, a 2014 C7 Stingray coupe. Chris is also no stranger to the competitive show car circuit.
We featured his show winning supercharged C6 in a previous edition. After Chris pushed the C6 mods to the limit he decided
to trade up and take a crack at the next generation C7.
In October of 2013 Chris took delivery of a "torch red" C7 coupe with a special "Kalahari" interior leather package.
Chris wasted no time in getting his new toy ready for the show circuit. The C7 is a stunning car right out of the box.
Right out of the box does not cut it on the circuit so Chris sent his baby C7 off to "Chris Cruz Artistry" in Deland , Fl.
where he began to collaborate on a complete and unique custom re-paint & design.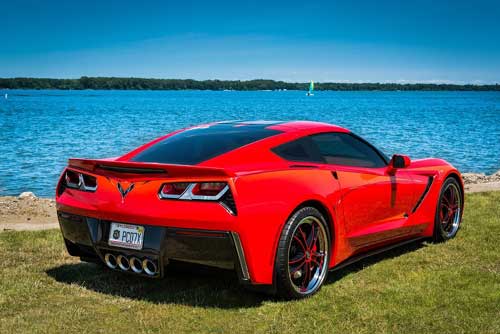 It was decided that the car would retain its torch red paint which would be an excellent backdrop for some custom graphics.
The car features Tribal Spike Graphic beginning with Pearl Orange fading down into a Four Stage Paint job witch blends
downward back into the Torch Red.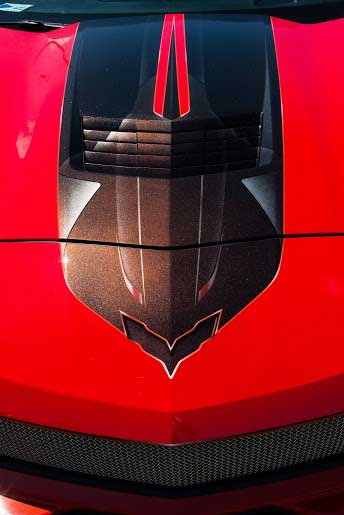 Other exterior modifications include a Custom stainless "Race Mesh Grill", Air-Brushed Transitional (chameleon-type)
Stingray, blending into matching Racing Stripes leading to the rear of the car.
A cool looking Stingray is Air brushed on to the lower door panel with a "Sand Trail" running toward the rear .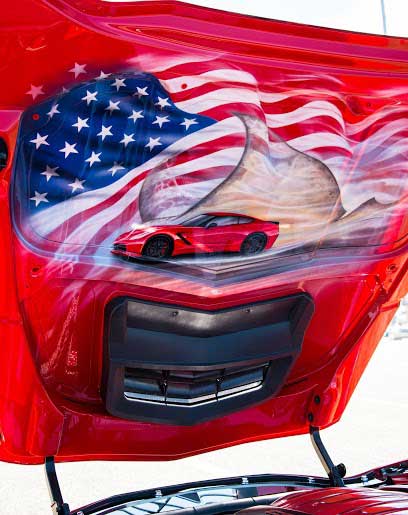 Under the hood Stainless Steel Accents & Lighting by American Car Craft brighten things up a bit.
An air brushed American flag graphic by Chris Cruz and a Ghost Stingray racing a Red C-7 bring the engine bay to life.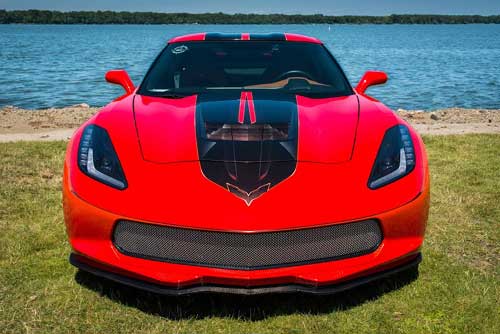 Since completion Chris has won several major shows with his C7. These include best in show at the St Augustine Golf Hall of Fame
Corvette Show, the Celebrity Pick by the Corvette Engineers "Corvettes at Carlisle", best in show Meadville, PA. Car Show.
The C7 was also featured in the Daily Sun Newspaper as an "American Beauty".
We will keep you posted on this cars progress as we know that the "mod bug" never sleeps.






The Vette Nut's

Return to Index Page