Jorge David purchased his 03 C5 Corvette in 2012 from Maronne Chevrolet in Pembroke Pines Florida. This is the same dealership that supplied
our C6 Z06 project car. Jorge told us that a Corvette was his dream car and had he always wanted one. A new C6 was out of Jorge's price range so he turned to his brother who works as a mechanic at Maronne Chevyfor help in the decision making process. Jorge's brother gave him a call when a mint condition red C5 arrived at the dealership . When Jorge saw the C5 it was love at first sight, he drove home with his burgundy C5 the same day.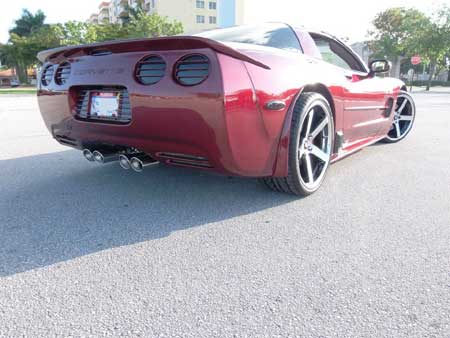 The C5 was a one owner 03 that was originally purchased and serviced at the same dealership. The car had no after market mods and was exactly the platform that Jorge needed for his own customization project. Jorge started ordering after market parts for his new C5 on the same day as his purchase. The car was not driven until Jorge completed his custom work. His goal was to transform the C5 from a mild mannered daily driver into an all out show winner.
Jorge worked on the car for over a year before he snagged his first trophy. The car can be seen at many venues throughout the Sunshine state during the warm and dry South Florida winters. Jorge's Cherry Wine C5 has taken two best of shows and nine first place trophy's to date.
Jorge takes pride in the fact that he has done all the mods himself. The only exception to his DYI attitude are the custom brake
rotors that were installed by his brother. Jorge's passion also extends to customizing motor cycles. He told us that has been into the
custom hobby for as long as he can remember.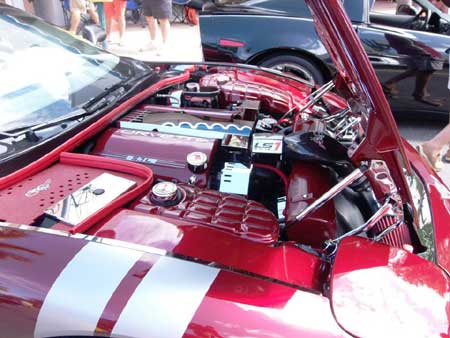 Mods to Cherry Wine include a carbon fiber air duct with a twin air filters, a Borla exhaust system and upgraded rear and front sway bars. On the drawing board are a set of two tone leather seats and visors. Other chrome and carbon refinements are also in the plan.
Jorge estimates that he needs another year to truly finish off his project. Those of us that have been bitten by the mod bug know
that Corvette projects are a never ending labor of love.
The following are some of the mods that have been installed to date:
Front spoiler and side skirts by ACI
Rear spoiler by John Caravaggio
High rise hood by RK Sport
20' wheels all around by XO
Tires by Hancock 245 20 front and 305 20 rear
Slotted disk brakes with color match caliper covers by RPI Design
Carbon Fiber brake duct
Carbon Fiber mirror and pillar covers
Carbon Fiber wiper cowl by WCC and Carbon Fiber wiper arms by American Hydrocarbon
Carbon Fiber front license plate intake screen
Complete Black out molded light kit
Color match anniversary red rear license plate and rear light louvers by ALTEC
Rear color match racing hook
BORLA STINGER oval 4 tips
Chrome 50th anniversary exhaust plate
Rear sway bar by spin with chrome plated brackets by Creative Engine Covers
White LED license plate light
Tinted windows
Grand Sport Silver fender stripes on both fenders
Black polyurethane corvette letters for the rear bumper
New front and rear 50th anniversary emblems
C5 stainless steel screen kit for the whole vette
Chrome gas cap cover from Creative Engine Covers with polished stainless steel screws
Interior Upgrades
Steering wheel two tone cover by wheel skin
Front 50th anniversary mats and rear 50th anniversary deck mats by Lloyd
Automatic shift knob in Firethorn Red by Corvette Essentials
Door handles dash grab handle and emergency brake handle in Firethorn Red leather
Door arms cushion in Firethorn Red leather with C5 emblem by Corvette Central
3d C5 50th anniversary gel emblems for the steering wheel and the
C5 coupe waterfall custom painted in anniversary red with 50th anniversary emblem
C5 engine ID plate install on the dash
50th anniversary console cushion
Gel corvette dash letters in anniversary red
Seat belt pad with C5 emblem
Custom dash mat with 50th anniversary emblem
Chrome billet knobs for the radio and the A/C
Performance choice Firethorn Red leather accent trim inside the dash
C5 side cup holder
Door jamb polished stainless steel screws
Polished stainless steel vent covers from ACC
Aluminum Gas and Dead pedal from Corvette Central
Billet door panels reflector covers
Stainless steel 6 pc dash trims from ACC
Carbon Fiber striker bezels
Chrome door strikers
Polished stainless steel door vanity plates with my initials
Dual pillar pod with gauges
Polished stainless steel door jam plates from ACC
Brey-Krause Fire Extinguisher adapter
Amerex chrome Fire Extinguisher
Billet seat adjuster
Rear hatch chrome shocks
Rear hatch polished stainless steel from ACC
Engine
Polished stainless steel alternator cover
Polished stainless steel brake and master cylinder cover
Anniversary Red fuel rail covers battery den cover fender covers water tan and wiper cover and radiator by RPI Designs
Chrome hood shocks
Polished stainless steel caps kit from ACC
Polished screws inside the whole engine
Polished stainless steel hood inserts from ACC
Polished stainless steel hood trim from Creative Engine Covers
Carbon Fiber air duct with dual polished stainless steel filter
Now that's a laundry list!
The Vette Nuts