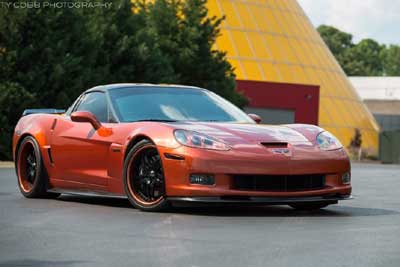 Two for the Road



Chad Carroll from the bluegrass state of Kentucky has had an ongoing fascination with Corvettes since his college days. Back then he worked as an intern at the Corvette Plant in Bowling green, KY. While there he had to memorize a script with all the production info and statistics pertaining to every Corvette that GM produced. Chad's job there included giving tours at the plant to the public. While working at the plat Chad realized that the Corvette was not just an ordinary car but a lifestyle to the people that bought and drove them. Chad's duties at the plant also included driving the Corvettes down to the local car wash . That's when he was bitten by the Corvette bug. The power and handling of the car made him want one.

At the age of 27 Chad bought his first Corvette that he still owns. The car is a customized 2006 Z06. Chads Z06 is painted in Daytona Sunset Orange, there only 282 C6 Z06 produced in that color. The mighty Z's LS7 is equipped with a set of WCCH Stage II heads, Vengeance Racing Kaotik cam, a Halltech Cold Air Intake, a set of Kooks Long Tube Headers. The Vengeance Racing dyno rates the Z at 585rwhp.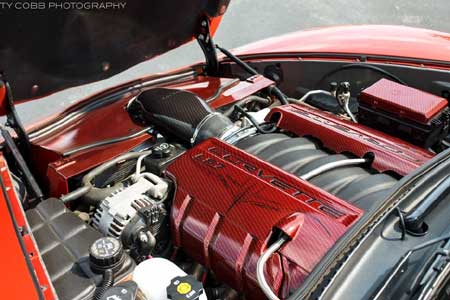 The cars exterior sports a carbon fiber ZR1 style front splitter and side skirts, carbon fiber extended ZR1 style rear spoiler, a carbon fiber wrapped vinyl roof and pillar. Custom Boyd Coddington 3-piece wheels painted to match car are a very nice touch. Blacked out lights and emblems, custom hand pin stripping above front and rear emblems complete the look. The Z's interior includes a custom steering wheel, center console, door trim, bezels, boots, and knobs by MCS . A touch screen dvd/navigation/bluetooth stereo enhances and modernizes the dated C6 interior.



Three years after purchasing his Z06 Chad acquired a 1964 Stingray. Chad bought his 1964 Corvette Stingray coupe in January of this year. The classic already sported various modifications that included fender flares, a six taillight kit, a repaint from production Daytona Blue to Riverside Red, side pipes, a big block "Stinger" hood, and to top it off a 383 Stroker engine.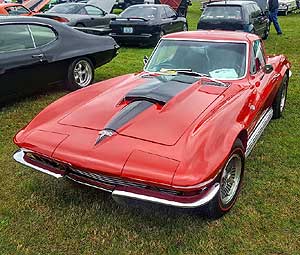 Chad always favored the design of the C2 , the second generations sleek body lines gives it a high "cool street factor. Already in Chads garage was a modern automotive marvel, a 2006 Z06, CHAD wanted a C2 that he could modify to meet his own tastes.


He was looking for and found a non numbers matching car that could be "resto-modded. The purists in the Corvette community usually discount and admonish resto-mods but the reality is that these molested classics are in very high demand. Chad like so many other enthusiasts was looking for a classic Corvette that he could actually drive on a regular basis.


One of the first thing Chad did was pull the old school stroker and replace it with a slightly warmed over modern LS1 motor. The LS motor was equipped with a JBTR Stage 2 cam. The new LS motor transmits the cars new found muscle via a very sturdy 4L60E automatic transmission. A set of headers by Hooker were installed allowing the exhaust to exit through the cars side exhaust. The brakes and suspension were upgraded to accommodate the modern drivetrain. The old analog gauges were swapped out with very cool looking led digital units.
Thanks to Chad for sharing his passion with us, he gives the term 'two for the road' a fresh meaning.
return to index page