North West C5

Carole Cole has always been an admirer of older C1 thru C3 Corvettes; however, she had never actually owned one. Carole always found herself behind the wheel of someone else's Vette, including a good number of classics up for sale through the Barrett-Jackson auto auction organization. In 2002, Carole finally had the opportunity to become a Corvette owner, she took the plunge and ordered a brand new C5 Coupe.

While awaiting delivery of her dream car Carole became very involved with the internet Corvette forums. She wanted to learn everything there was to know about being driving and owning America's only sports car. Carole finally took delivery of her toy and thoroughly enjoyed the Corvette experience.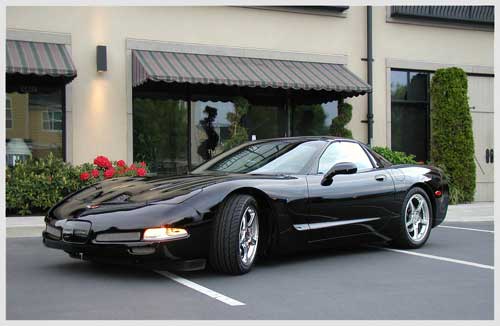 It wasn't long before Carole was bitten by the dreaded modifications bug. She resisted making changes to the C5 until she had a chance to meet with other local Corvette owners and participate in a Corvette car show. After her first show she told her husband that all bets were off.
Carole plans for he C5's modifications included keeping the exterior almost stock and concentrating on engine bay "flash". From childhood, Carole always had a thing for chrome and flames, particularly on black cars. Combined with a personal "Cater to No One" philosophy, her theme was defined.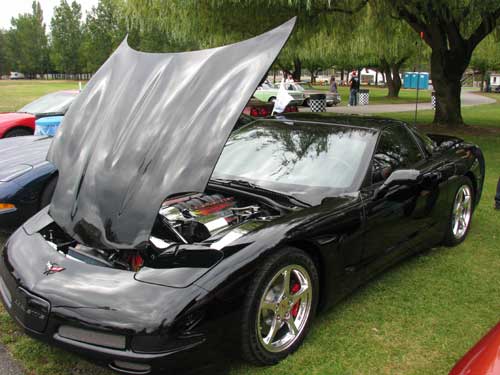 Competition in the car show circuit can be a daunting challenge. Carole took on that challenge by modifying the stock exhaust and air intake systems. The stock exhaust was swapped out for a polished Corsa Indy Performance exhaust system with Tiger Shark tips. The intake was replaced with a Donaldson Black Wing air induction set up. A smooth throttle body air coupler was added along with custom painted, real flame fuel rails, intake duct and front radiator shroud, all created by AutoBuffs.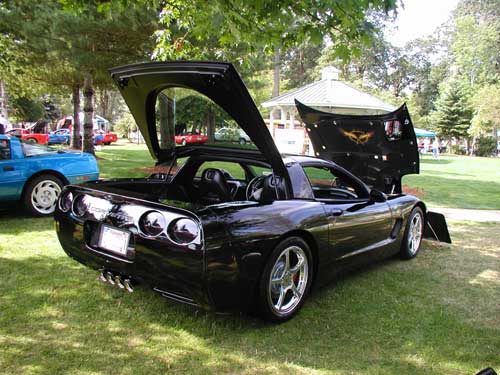 Matched to the body, custom painted smooth coolant and washer tank covers were installed over the ugly stock tanks. Rounding out the engine appearance upgrades are assorted chrome and polished stainless steel dress up touches. Anything that could be polished under the hood was polished. Carol says she is a big fan of using a Dremel tool with some Wenol and Zaino polish on engine parts. Whenever Carole is not at work writing her next car-oriented novel, you can bet she is in the garage buffing something.

Carole hand painted the hood liner and secured it into place with a set of chrome-dipped grommets. A custom etched side mirror reads, "Objects in Mirror Do Not Matter."

The interior is stock but exceptionally clean with the help of embroidered Lloyd Mats, window tint and a chrome fire extinguisher. Carole's dad, a home car builder in the late 1950's, instilled a "Safety First" attitude.
The Corvette has been lowered all around. The stock brakes were upgraded to Baer Eradi Speed drilled and slotted rotors. Polished stainless brake pad covers accentuate the painted brake calipers. ZO6 screens and blackout lens all around finish the sleek, dark look. Underneath, frame and front end savers from A&A Corvettes protect the body from steep, over-zealous driveway peaks. All suspension parts and rock shields were polished by hand.
The car is a regular winner in the Pacific Northwest regional Concourse class for NWACC (Northwest Association of Corvette Clubs), taking first in season points. Carole's C5 has also won many unaffiliated shows over the years that have included many best engine and best in class awards at the Portland, Oregon Roadster Show.
But it's not all about car shows. Carole's future plans for the C5 include some serious engine performance modifications. The modification bug is ever present and continues to nibble harder with each passing year.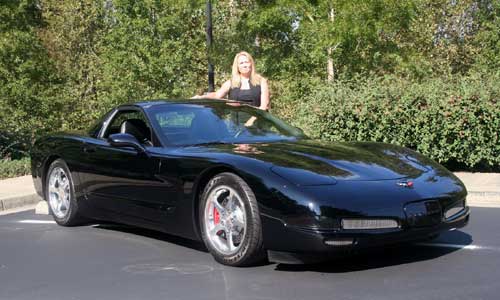 For the time being Carole and her C5 can be found traveling up and down the West coast. Her regular Corvette inspired trips include cruising through downtown Seattle, visiting Mt. St. Helens. Carole enjoys blasting down to Redding, California for one of the areas best burgers. In Carole's words; "driving my C5 is more fun than you can shake a 1st place trophy at".
The Vette Nuts
return to index page