Vette Girl of the Month



Carol Ireland is a true North Carolina "Vette Girl". She bought her 2006 Z06 as a birthday present to herself. Some family tragedy's over the past several years prompted Carol to throw logic to the wind and enjoy life. Carol tells us that "you never know what's lurking around the corner. The past three years has taught me to drink in all the happiness you can" !




The Z06 is as Carol puts it "her zen and her happy place in life". She loves the jet like power of the Z06. Carol admits that she was unsure if she could handle a manual on a full time basis but now she would never go back to an automatic. She loves the feel and control of a manual in her Z.



This yellow "Z" gets a lot of attention. People ar constantly approaching Carol to ask questions about her American exotic sports car. Carol said that recently a couple of guys pulled up beside her at a stop light and one of them told her that he had a Z06 that scared him to death. Carol says that most guys think women can't handle the power of a "Z" car. She is also constantly asked to pose for pictures with her car.



Carol learned the love of autos from her father. She says the he taught her how to love and fix beautiful machines, he was always the 'go to' guy to fix anything mechanical. Carol took after him and attempts to fix everything she can on her own. Recently she and a friend removed the console in the Z and adjusted the linkage for smother shifts. She tells us that her father would have been proud.

This "Vette Girl" is having a love affair with her "Z". Carol tells us that she is spoiled and will never drive anything else. Carols previous ride was a 90 C4 that she drove for about ten years. She says that there is no comparison between the C4 and the C6 Z06.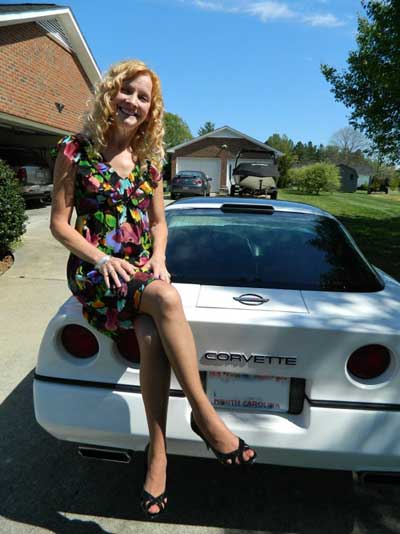 It took her a while to get used to the extra available cabin space in the C6. Everyone that rode in her C4 complained about the small interior, and the difficulty in getting in and out.

Carol tells us that if given the choice between her C6 Z06 and the C7 Z06 she would stick with her present ride. Maybe she will change her mind down once she get's used to the new body style.


The Vette Nut's

Return to Index Page